Evergreen Herbal
Impeach Mints 20:1 THC:CBD
100mg THC/package
evergreenherbal.com | @evergreen_herbal_
Just as satisfying as when they were first released, these limited edition mints continue to celebrate the spirit of Impeachmint, which continues to feel so good as it rolls off our tongues. Which is exactly how the actual mints feel, with unique cannabinoid blends and a fun celebration of free speech. And remember: There's nothing wrong with getting high and voting! So choose fresh breath this holidaze, and pass these mints to your favorite Q relative for an extra fun Xmas reunion.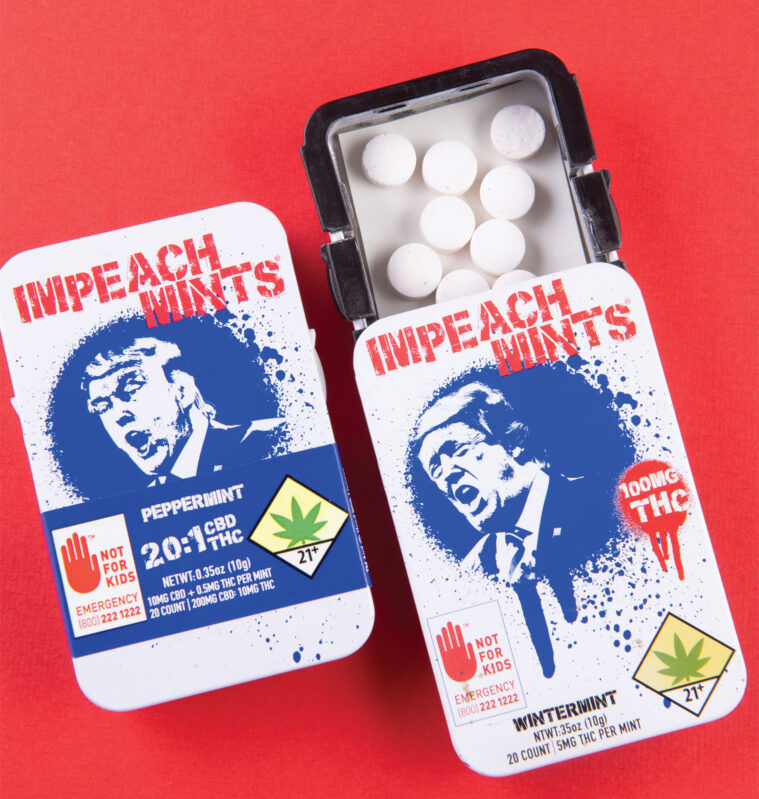 ---
Mr. Moxey's Mints
Herbal Pastilles Assorted Blends
Mints are the most versatile way to get high, serving a dual purpose of freshening breath while acting as a ubiquitous and easy to conceal delivery method for cannabinoids and relief. Mr. Moxey's Mint lineup is super useful – here to help with sleep, energy, relaxation, balance, and even achieving a level of zen "as fuck." While (that's not part of their marketing) it feels very zen as fuck to eat a mint and get high at work, school or when dealing with the holiday rush, the unique blends of cannabinoids ensure Mr. Moxey's has a cure for what ails you!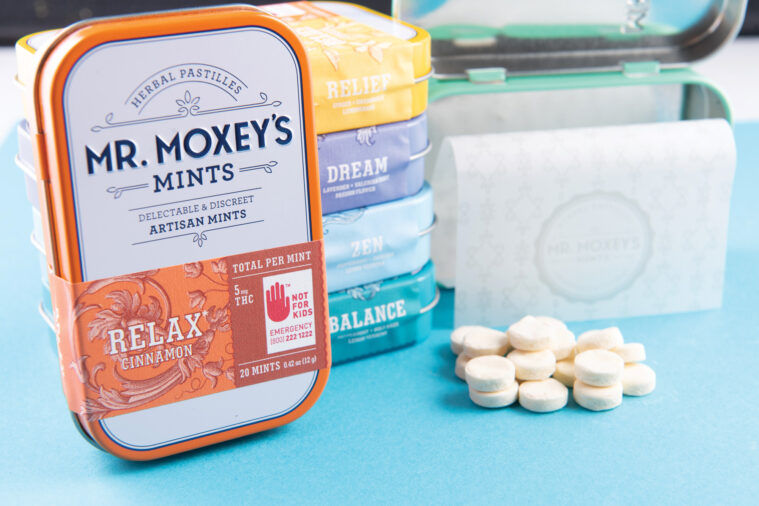 ---
Honu
Chocolate Turtles, Gimme Sa'mores & Peanut Butter Cups
10mg THC/serving, 100mg THC/package
Let's start by saying that the Honu Chocolate Turtles were the most delicious edible of 2018, and they still crush it today with an intoxicating blend of chocolate, pretzel, caramel and pecan. But the crafty team at Honu has outdone themselves with a new Sa'mores bite that tastes like a summer dream, minus the campfire, with a perfect pillowy mouthfeel and a graham crackery crunch. These are ridiculously delicious, and if we haven't whet your appetite yet, we have four simple words to close this review: infused peanut butter cups. 'Tis the season for indulgence!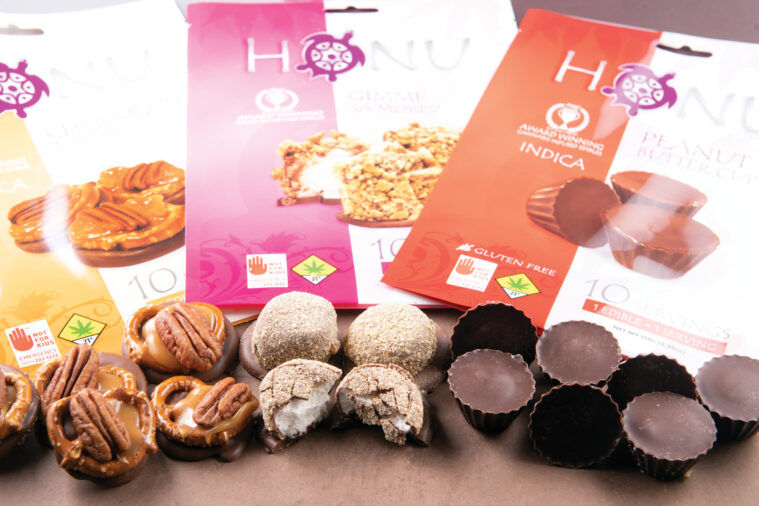 ---
Honu
Dark Chocolate Peppermint
10mg THC/serving, 100mg THC/package
An after-dinner mint is the perfect kiss of sweetness that revitalizes the palate and reminds us that we will eat again. The Honu version is both simple and glorious, with a perfectly layered blend of chocolate and a green mint layer that tingles the mouth and delivers a buzz that is completely acceptable to start, or finish a meal with.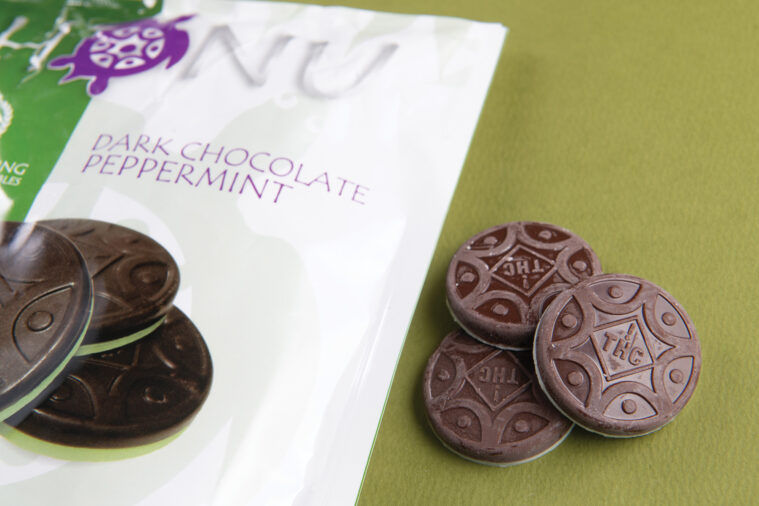 ---
Pioneer Squares
Dark Chocolate Dank Chews
10mg THC/serving, 100mg THC/package
craftelixirs.com | @craft_elixirs_seattle
Chewy chocolate bites of deliciousness – need we say more? Pioneer Squares has been making yummy gummies for years, and their new dark chocolate bites bring a thicker texture and chocolate flavor that feels like a grown-up version of a Tootsie Roll.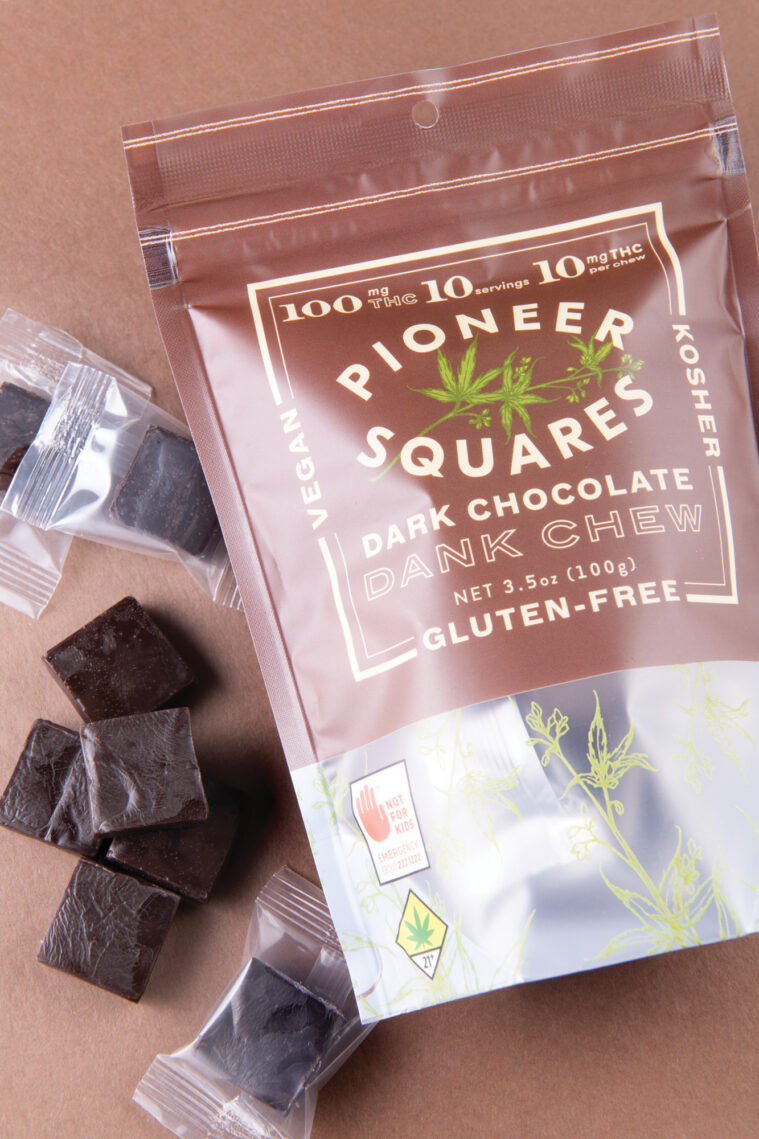 ---
Skuared2
Rocky Road, Raspberry Cheesecake, Espresso Caramel
50mg CBD & 10mg THC/piece
skuarededibles.com | @skaurededibles
Math lovers and nerds unite, we have a new brand that combines scrumptious recipes (we'd eat these uninfused) with unique cannabinoid blends for treats that taste great, and will have you feeling great too. The Espresso Caramel has a perfect espresso bean crunch with a soft chocolate-caramel mouthfeel and a zing of caffeine, and the Vanilla Espresso version is amazing for vanilla latte lovers. The Rocky Road was pillowy and sweet, but the Raspberry Cheesecake takes the cake, and the Peanut Butter Jelly brings it all together for a versatile edible line worthy of a taste, or two, this year!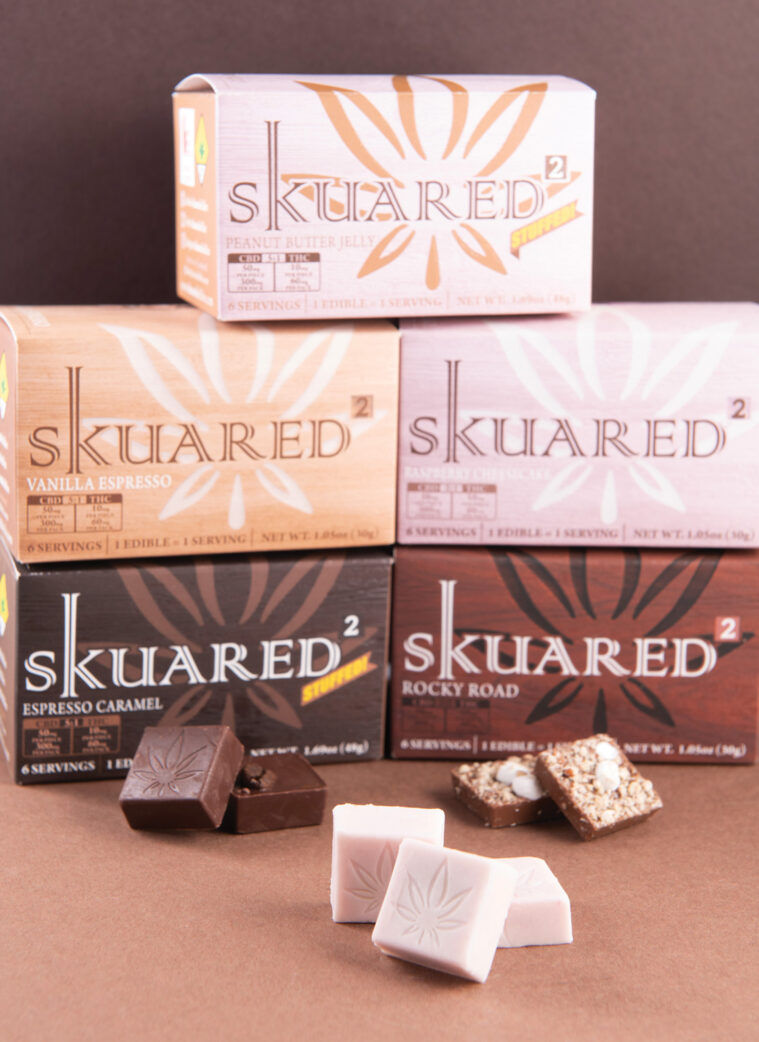 ---
Wave Edibles
Sea Turtles
5mg THC/serving, 10mg THC/package
waveedibles.com | @waveedibles
The next time you hear "save the turtles" it might not be about our ocean going peaceful friends, but these delicious chocolate layered treats that are definitely worth saving for yourself. With a salty chocolatey crunch and a satisfying size that you totally don't need to feel guilted into sharing, this edible hits the spot for munchies – and will give you them too!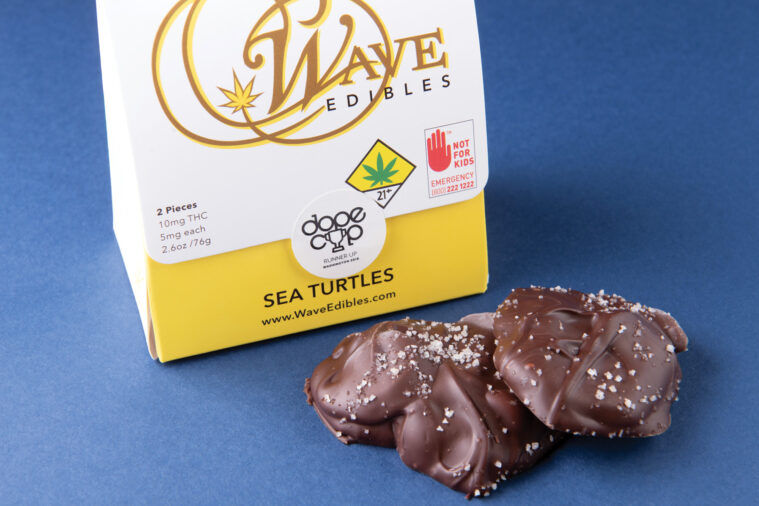 ---
Wave Edibles
Lil' Dark Chocolate Salted Caramels & Milk Chocolate Happy Peanuts
10mg THC/serving, 100mg THC/package
waveedibles.com | @waveedibles
When the edibles take hold it's almost like a wave, one that you can start out riding like a pro surfer, or have the wave ride you as it tosses you about in a stoned, red-eyed frenzy. We enjoy both experiences, and the Wave edibles are so tasty that it's hard to eat just one delicious caramel bite, but by the time you've eaten a whole box of satly-nutty-chocolatey Happy Peanuts, you'll be as happy as a nut – waving goodbye to stress as you catch the next edible Wave.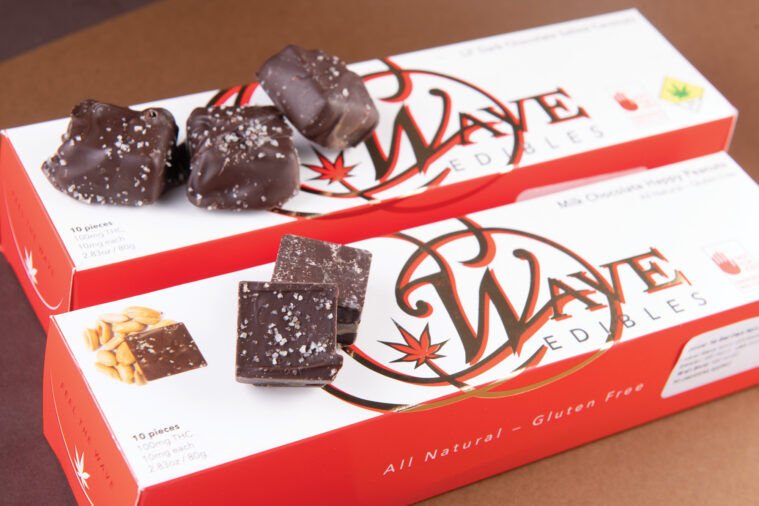 ---
Evergreen Herbal
Legacy 4.20 Bar Collection
10mg THC & CBD/serving, 100mg THC & CBD/package
evergreenherbal.com | @evergreen_herbal_
Evergreen Herbal's 4.20 Bars have been a hit for years, and their new legacy lineup combines unique ingredients for purpose built edibles that taste and feel good. From their Ease 1:1 chocolates with chamomile, raspberry and vanilla bean, to their Desire dark chocolate with Chinese 5 Spice and Orange Zest, there's a tasty blend that will get you in the mood to Create, Renew, Comfort or Energize. Pick the 4.20 Bar that is best for your self-care needs, and bite into a yummy edible experience!
---
Kallisto by Smokey Point Productions
30:1 CBD Milk Chocolate Squares & Brown Sugar Caramels
1mg THC & 30mg CBD/piece
smokeypointproductions.com | @smokeypoint_wa
Kallisto is an in-house edible brand of Smokey Point Productions, and we love all the delicious combinations of Cannabis and treats that come out of their kitchen. The high CBD chocolate squares are a perfect relaxing treat, with 30mg of CBD to calm nerves day or night. The brown sugar caramels are pillowy soft, and melt in your mouth with a kiss of brown sugar and caramel that fills the body and mind with a wondrous high that can only be delivered by an exceptionally tasty edible.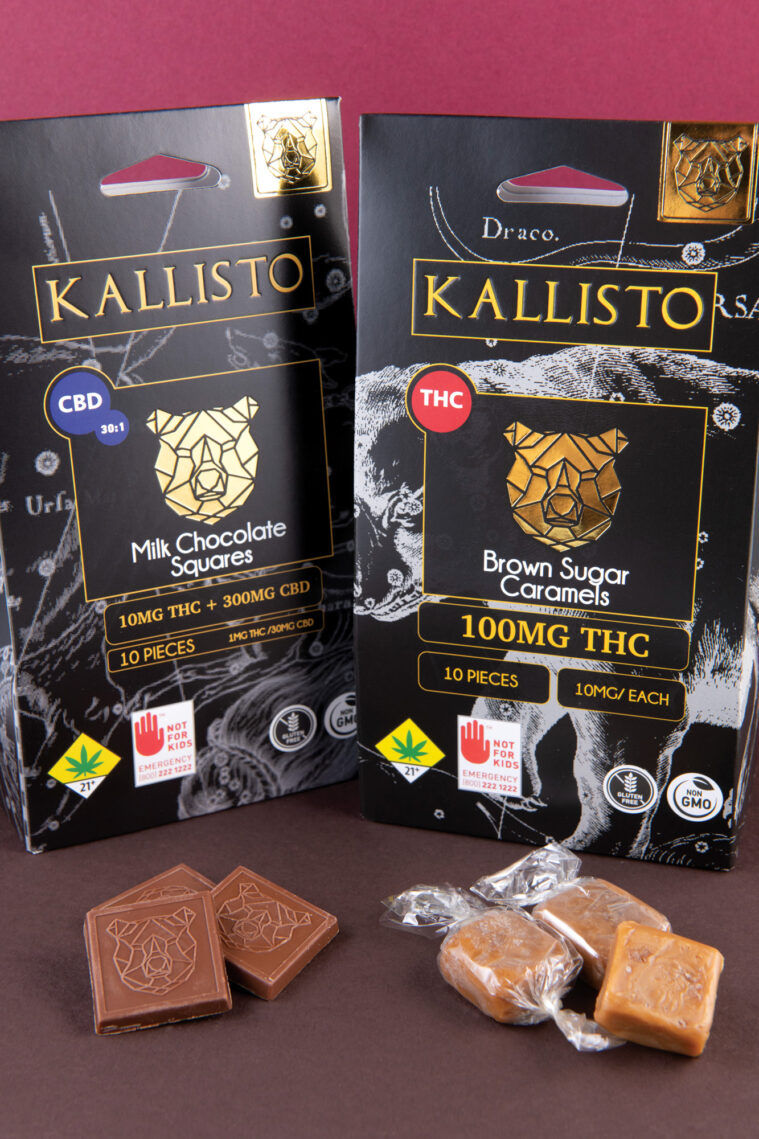 ---
Gold Leaf & 4.20 Bars
Milk Chocolate & Macadamia Nut
10mg THC/serving, 100mg THC/package
goldleafgardens.com | evergreenherbal.com
Chocolate and macadamia nuts go together like the sun and beaches, two things we are lacking here in the middle of a Washington winter. But fear not! A taste of the legendary Hawaiian treat is available with Gold Leaf infusions inside, delivering the signature melty-crunchy-rich bite with a buzz that will get you on island time – even when daylight savings makes it dark by 5:00 p.m.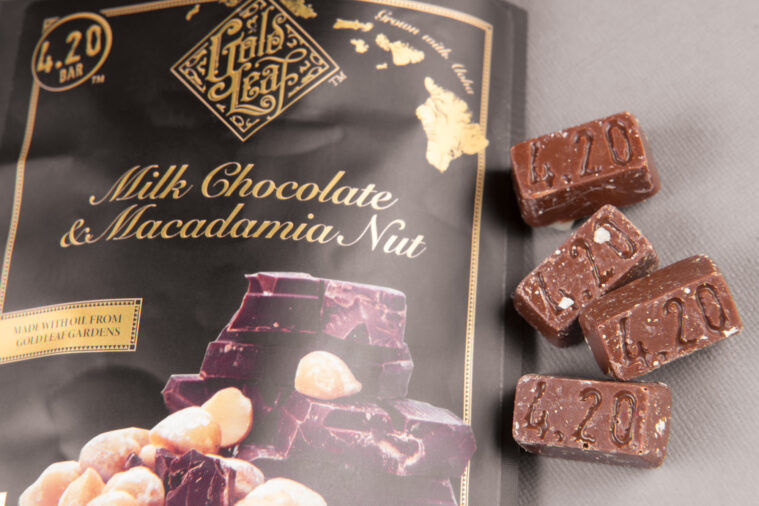 ---
Gold Leaf & 4.20 Bars
Dark Chocolate & Kona Coffee
10mg THC/serving, 100mg THC/package
goldleafgardens.com | evergreenherbal.com
Gold Leaf has been growing Cannabis with love for their Ohana in living soil, producing some of the best flower in Washington state. They've teamed up with Evergreen Herbal for an island version of a chocolate treat, blending Kona coffee with infused chocolate for an invigorating and satisfying chocolate bite with the powerful infusion of Gold Leaf.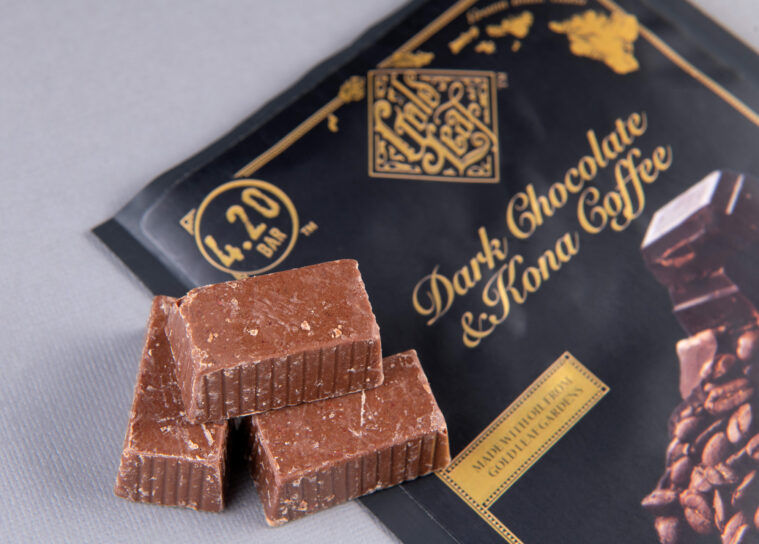 ---