Leaf Chews
Luau Punch
10mg THC/serving, 100mg THC/package
Get your luau on this winter for a taste of the tropics and a buzz that will have your mind on the beach, even if your toes are stuck in a cold pair of boots. The Luau Punch tastes like Hawaiian Punch – with a creamy finish unique to Leaf Chews – and features a big dose of THC from Einstein Labs extracts. Look for new packaging and flavors for this tasty candy in the new year!
---
Hellavated
Assorted Gummiez
10mg THC/serving, 100mg THC/package
hellavated.com | @hellavatedvapes
It's not easy to take a simple recipe like a gummy and make it high quality and delicious, but that's exactly what Hellavated has done – via bright, invigorating flavors and a consistent brand that is reaching around the country. With classic takes on tastes like the Razberry Blitz, Mango Dragon and Water Yer Melon, there's a yummy gummy for everyone to get Hellavated this holiday!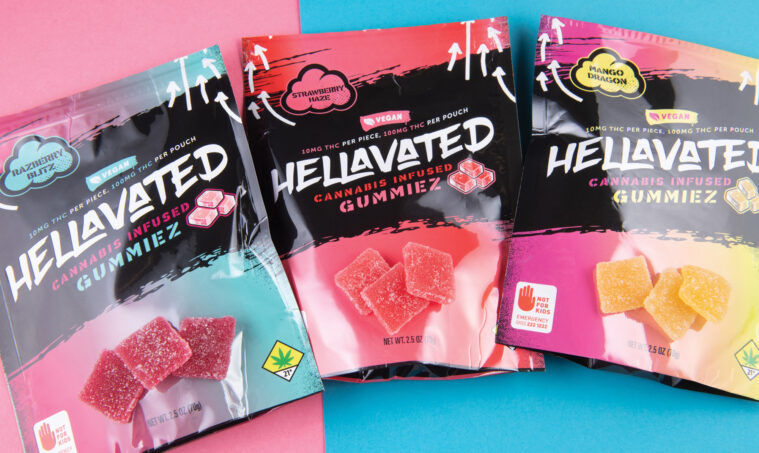 ---
Hellavated
Strawberry Haze Gummiez
10mg THC/serving, 100mg THC/package
hellavated.com | @hellavatedvapes
Ready to get hella elevated? We love this punny brand, their yummy gummiez and flavored vapes. The Strawberry Haze gummiez have a sweet and sour strawberry effervescence that melts into the palate, with a sugar rush that delivers a floaty, happy buzz so tasty we floated off with a whole package in one sitting!
---
Green Revolution
Doozies Gummies Sour Cherry and Watermelon
2:1 CBD:THC Indica & Sativa, 10:1 THC:CBG
greenrevolution.com | @expgreenrevolution
Green Revolution has a hit with their Doozies made from real fruit and natural flavors, but our favorite part is the unique cannabinoid blends available across a variety of tasty flavors – including Juicy Peach, Lemon Lime, Marionberry and more. With high CBD options that are 40:1 (40mg CBD, 1mg THC per piece), to the energetic and euphoric sativa gummies with 10mg THC and 1mg CBG per bite, you can meet your personal cannabinoid needs from the classic 1:1 THC/CBD blend and beyond.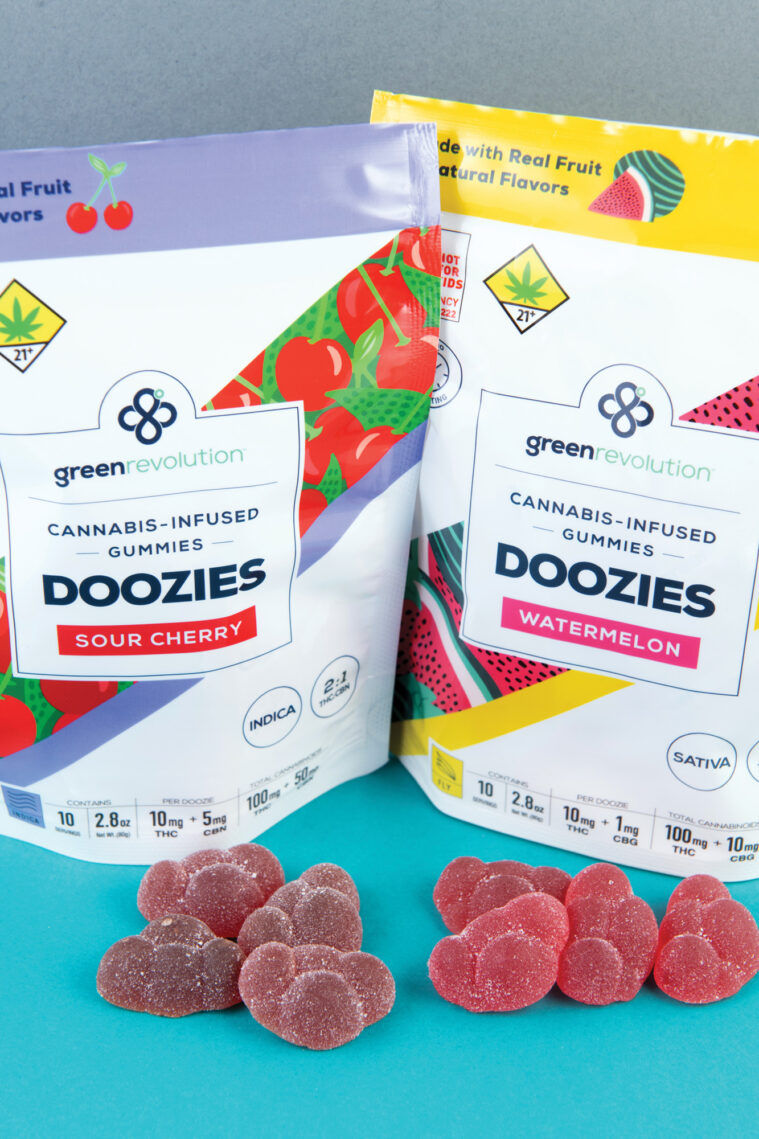 ---
Smokey Point Productions
June's Sweets Fruit Jellies
30:1 CBD:THC/serving, 10mg THC/100mg package
junesedibles.com | @junesedibles
Thick, soft and juicy, these gummies definitely have a jelly-like quality and mouthfeel that turns you into a piece of toast, slowly spreading delicious syrupy fruit flavors over the palate … until the mind and body are baked to perfection. The high CBD 30:1 Blood Orange is fizzy and bright with a relaxing buzz, and the Sour Blue Raspberry will have you checking to see if your tongue is blue – which is a lot of fun when melting off several 10mg pieces.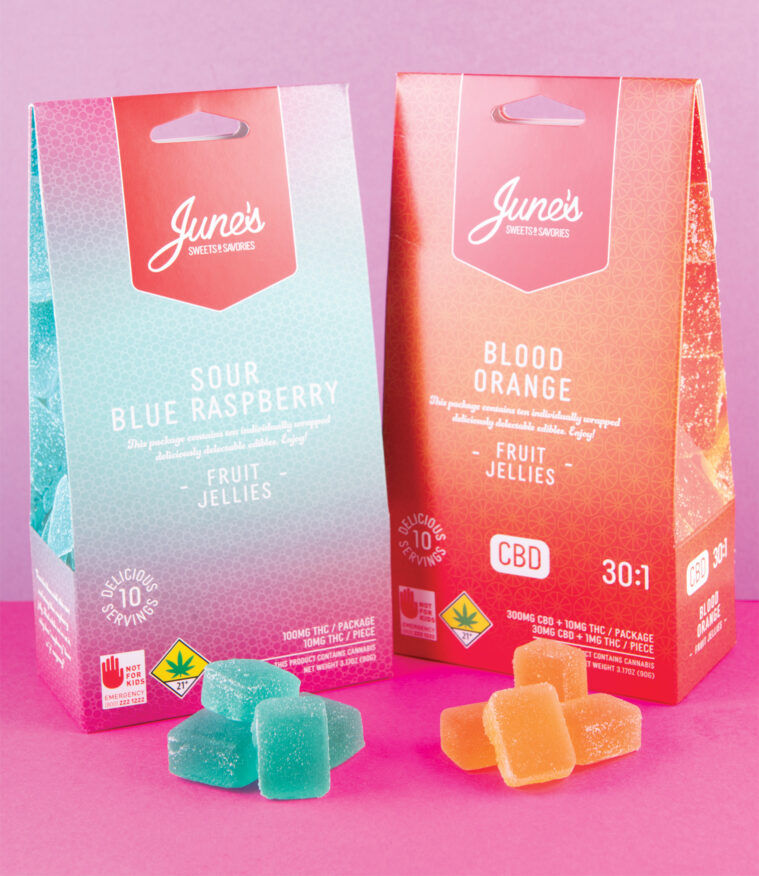 ---
Evergreen Herbal
Sinners and Saints Gummies & Hard Candies
1:1 CBD:THC, 10mg & 100mg THC versions
forevergreenherbal.com | @evergreenherbal
While consuming weed might have gotten you labeled as a sinner in the past, you'll feel like a saint when sharing these gummies and hard candies full of 1:1 goodness. The gummies have fun flavors like mango passionfruit and kiwi strawberry, but what stood out to us was the simple deliciousness of the hard candies. The mango tastes like a slice of fresh fruit, with the option to suck or crunch through – no wrong way to catch a buzz with these 1:1 delights.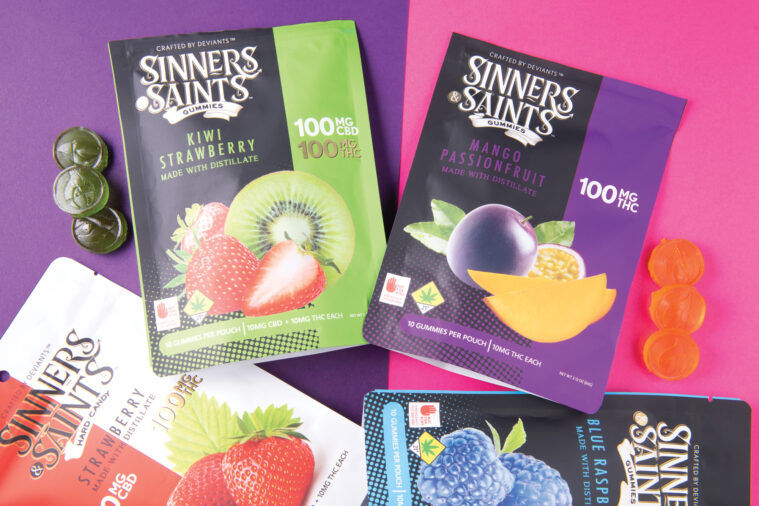 ---
Journeyman
Sour Jellies Variety Pack
10mg THC/serving, 100mg THC/package
lifeisajourneyman.com | @lifeisajourneyman
From the couch to success, life is a journey, man – and we love the couch-locked vibes from this brand. Their Sour Jellies come in straight 10mg THC form, 1:1 CBD:THC, or the high-CBD 30:1 format that is perfect for relaxing when you don't want to be completely melted into the couch. The variety pack of flavors features watermelon, green apple (sour power) and raspberry, all with a tingly mouth-pucker that will have sour lovers flocking to these tasty treats.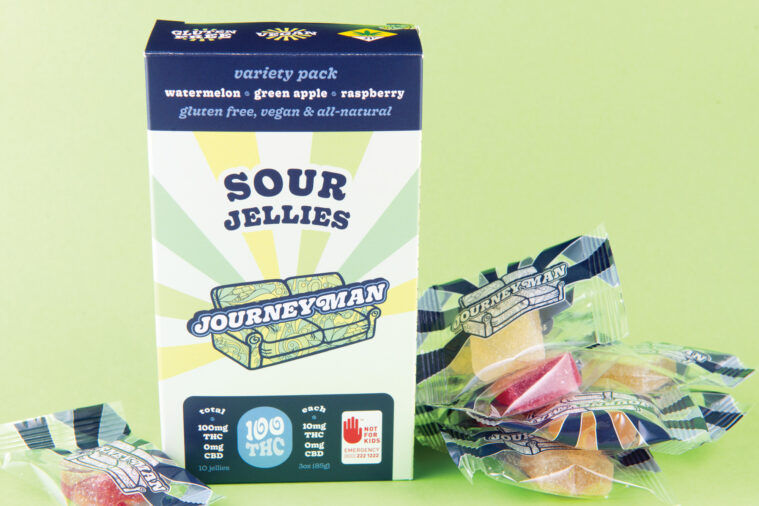 ---