Mainstage
Modified Fruit Bowl Disposable Vape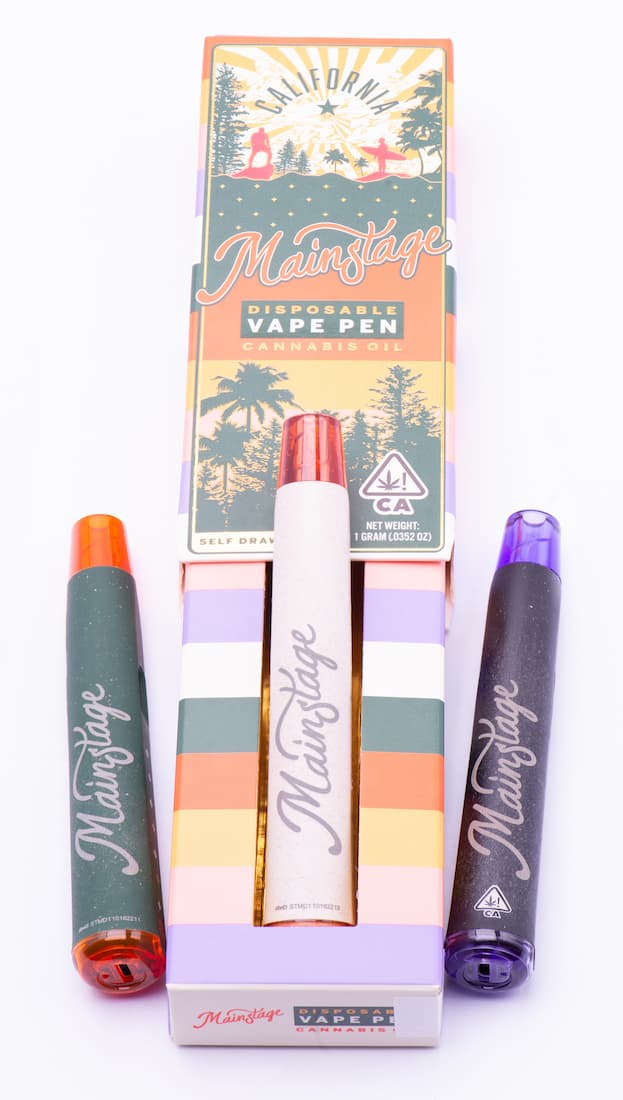 This well-known Sacramento-based retailer began packaging their own branded dabbables over a year ago as a way to provide their customers with a consistently solid bang-for-your-buck option. Now, they've added disposable and rechargeable, hemp-based vapes to their lineup to bring the same consistent quality concentrates to their unique and highly functional hardware. The Modified Fruit Bowl is super tasty and the pen delivers effortless clouds of full-flavored fruit punch terps – stellar!
73.3% THC | 8.5% Terpenes
mainstagecali.com | @mainstagecali
---
Paper Planes Extracts
Coco Chanel Live Resin Cartridge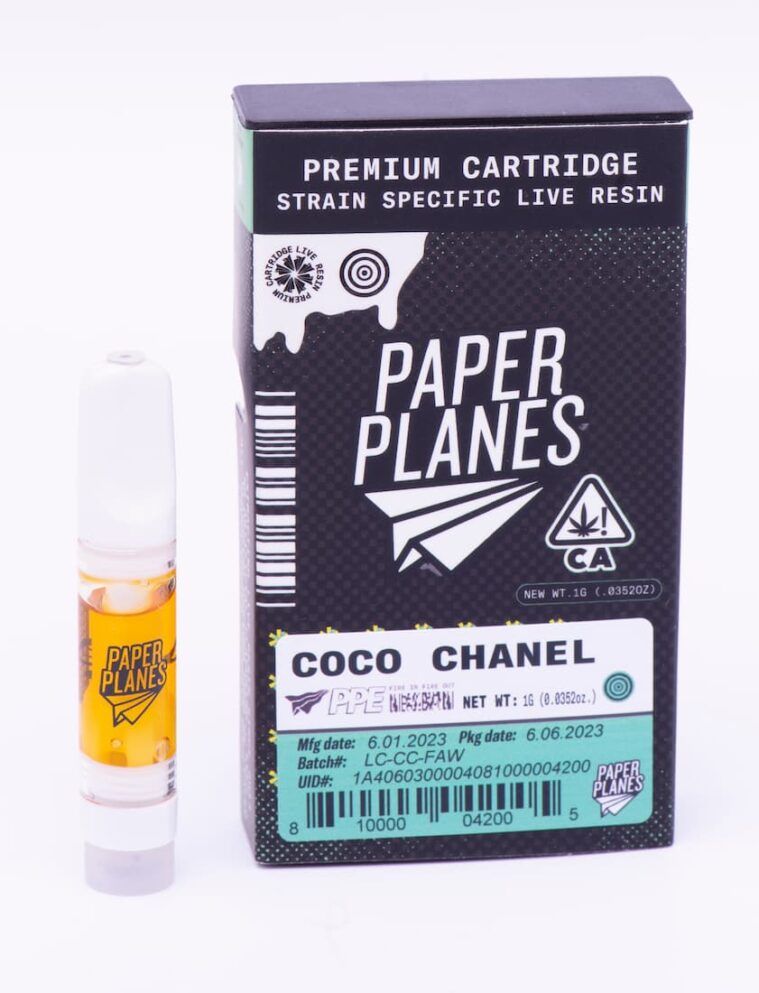 Paper Planes not only crafts some of the finest dabbable products in California, they also like their terps on the go via strain-specific live resin cartridges. The Coco Chanel offers a luxuriously smooth puff that features notes of grape hookah, petrichor and rosewater, and the accompanying effects are heady and slightly distracting. Paper Planes has opted for all-ceramic hardware that provides a delightfully flavorful draw, with the added benefit of looking super sleek and sexy.
---
Chemistry
Strawnana Frosting Live Terp Cart
Cultivated by Radicle Herbs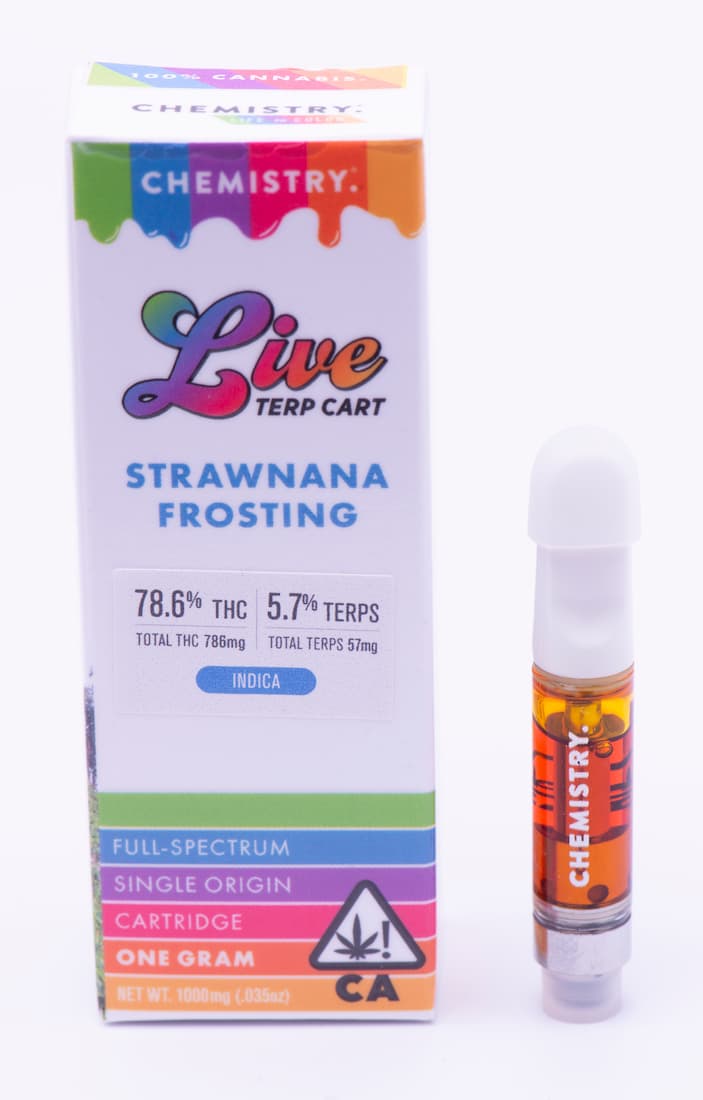 Chemistry is well known for its allegiance to sungrown Cannabis, and their highly visible rainbow-laden packaging has made them an easy go-to for many cartridge users across the state. This Strawnana Frosting was cultivated by the team at Radicle Herbs in Mendocino, and extracted into a gorgeous golden-amber hued full-spectrum resin by the team at Chemistry. The flavor is equal parts rich, sugary-sweet cherry, bright red fruit and diesel fuel, and backs up the luscious flavor with full-bodied effects. Fantastic!
78.6% THC | 5.7% Terps
trychemistry.com | @trychemistry
---
Shaman Extracts
OG Kush Cured Resin Cartridge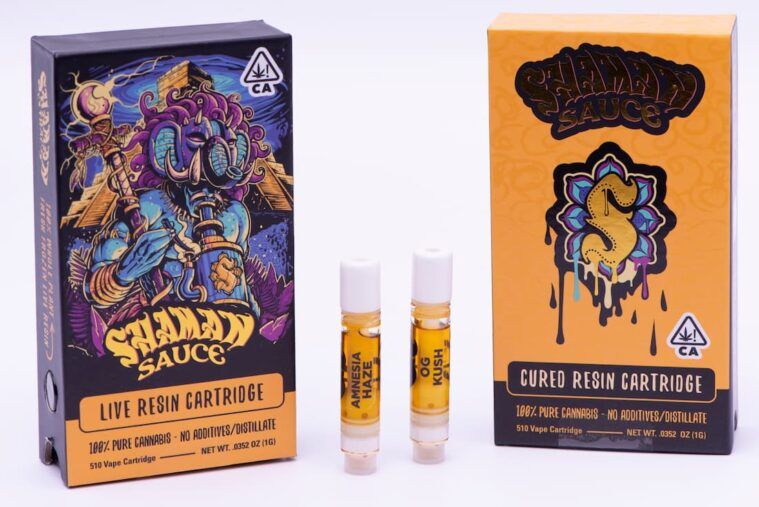 The king of Cannabis, OG Kush is easily the best known cultivar in the world, and will probably go down as the greatest strain of all time. Shaman Extracts has crafted this cured resin cartridge that delivers a lime-forward version of the ultra-classic profile for those living life on the move. Their proprietary ceramic hardware delivers tasty rips with ease, and it only takes a couple of puffs for a heavy-handed, eye-dropping high to kick in.
81.4% THC | 3% Terps
shopshamanextracts.com | @shamanextracts_
---
Shaman Extracts
Amnesia Haze Live Resin Cartridge
Amnesia Haze is a classic thin-leaf varietal that delivers an uplifting, cerebral high with only a couple of draws. True to style, this live resin tastes like Squirt soda with a Pine-Sol floater topped with lemon and lime zest. At over 90% THC and 6% terps, this cartridge is both potent and extremely flavorful. Shaman Extracts continues to demonstrate their mastery of all things live resin with this travel-friendly rendition of their top-shelf dabbable extracts.
90.3% THC | 6% Terps
shopshamanextracts.com | @shamanextracts_
---
Mainstage
Disposable Full-Gram Rosin Pens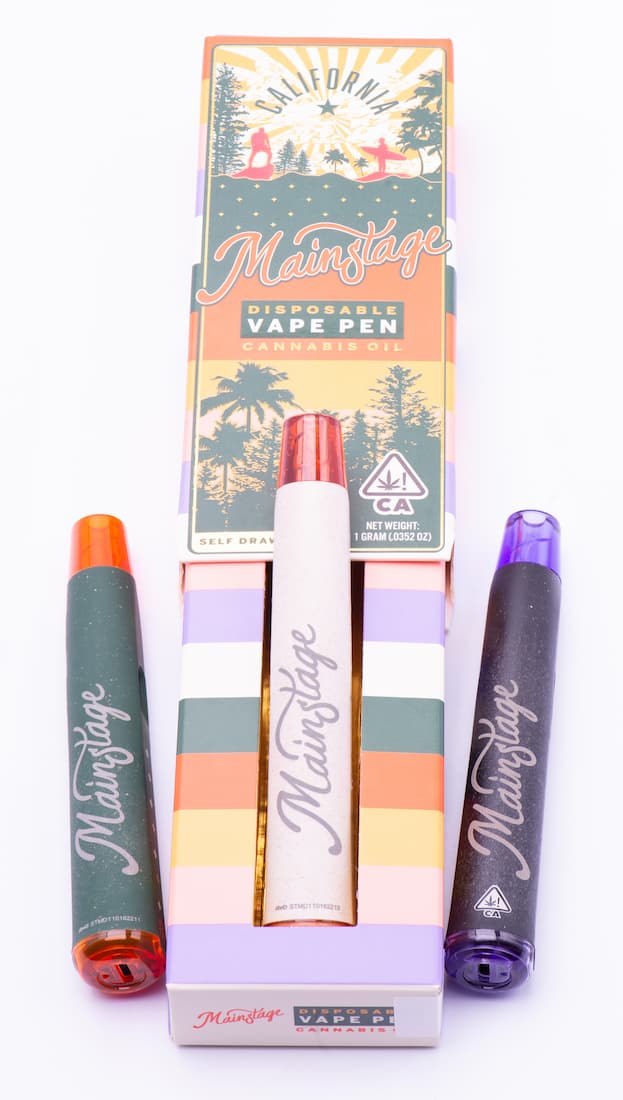 Mainstage has a great habit of working with some of the finest names in the game on their in-house products and this is no exception. With a full gram of solventless live rosin processed by Terp Mansion up in the Emerald Triangle, not only are these potent with great flavor and feature an impressive draw, but they also make use of an AVD battery that feels easily palmable for discreet use. Highlighting flavors like Thin Mint Cookies and Grape Pie – you also have USB-C charging to make sure your disposable is always working at full capacity.
Thin Mint Cookies: 80% THC | 9.13% Terpenes
Grape Pie: 68.7% THC | 7.36% Terpenes
mainstagecali.com | @mainstagecali | @terp.mansion
---
Dee Thai
Disposable Vapes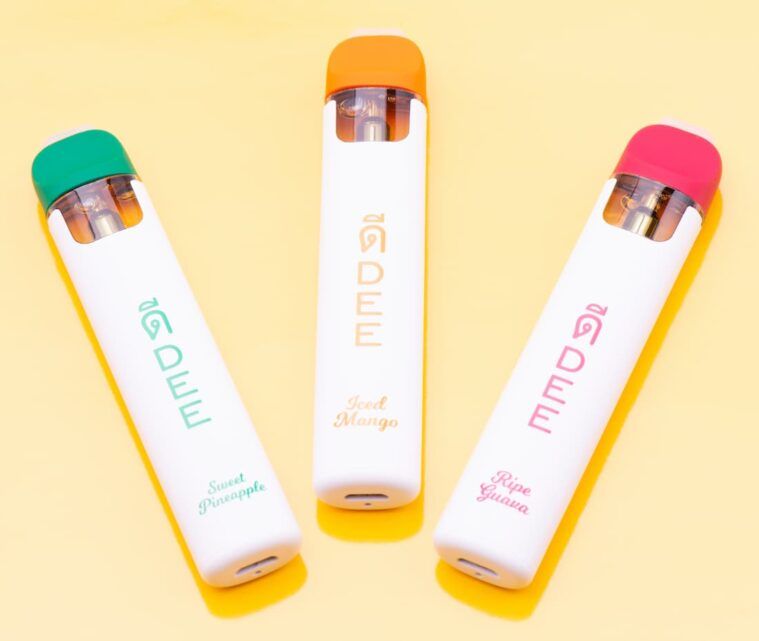 Featuring a mix of live resin and distillate, Dee Thai has branched out from their amazing edibles to create a line of disposable vapes focused on delivering a mouth-watering flavor along with potency. These are the kind of things everyone at the party is going to want to try. The pineapple, mango and guava all manage to combine the best parts of fresh, candy-fruit flavors – but without any aftertaste. An excellent option for afternoon outings or slipping into events and knowing Dee Thai, we're just waiting for the jackfruit flavor to come out next.
Pineapple: 91% THC | 94.5% Total
Iced Mango: 93% THC | 97% Total
Ripe Guava: 88.2% THC | 92% Total
deethaigummy.com | @deethaiofficial
---
Humboldt Terp Council
Loudmouth, Flambé & Citrus Twist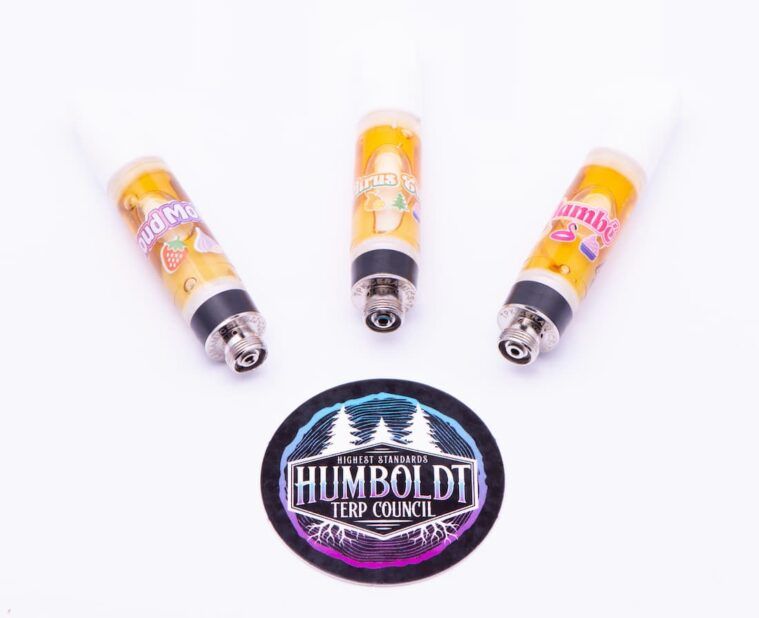 The Humboldt Terp Council cartridge line delivers on the hash company's name. We had the pleasure of sampling three flavors, each of which offers its own unique character. The Loudmouth hollers with ripe tropical fruit and cheese. The Flambé is a light and airy middle sibling. And the Citrus Twist drops more than 15% terpenes on your tongue. With terp levels this high, it's a pleasure to report that the Citrus Twist takes it easy on the palate, like sipping pulp-free OJ. Don't be surprised if the terpenes start to tickle the nose after a few draws – it's the Humboldt Terp Council, after all.
Loudmouth | 67.8% THC | 7.75% Terps
Flambé | 67.9% THC | 10% Terps
Citrus Twist | 66.4% THC | 15.36% Terps
@humboldtterpcouncil707
---
Friendly
Confetti, Pink Panties & Crepes Live Resin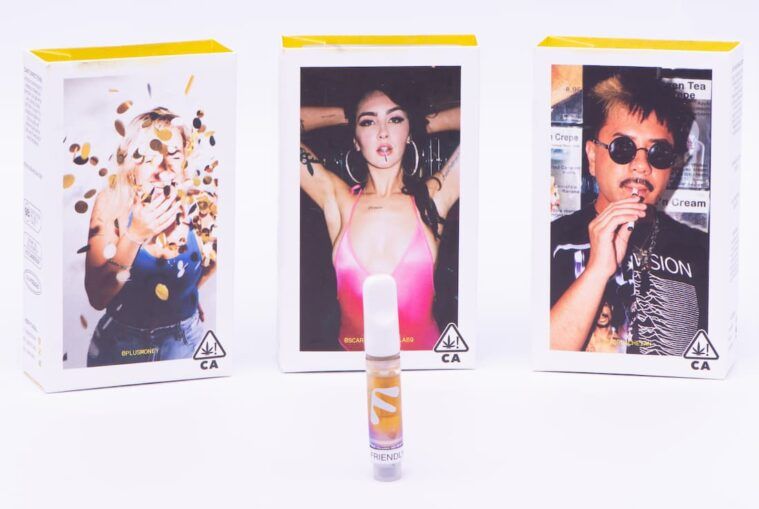 The crew at Friendly earns its reputation as a leader in the vape scene, with well-conceived branding and packaging wrapped around quality oil. All three flavors we tried – Confetti, Pink Panties and Crepes – were tasty and sipped easy. The Confetti really frosts the cake, with a hint of sweet and ripe kiwi character.
81.9% Total Cannabinoids | 80.2% THC
friendlybrandusa.com | @friendlybrandca
---
Nasha
Banana OG x GMO Live Rosin All-in-One
Cultivated by Alpenglow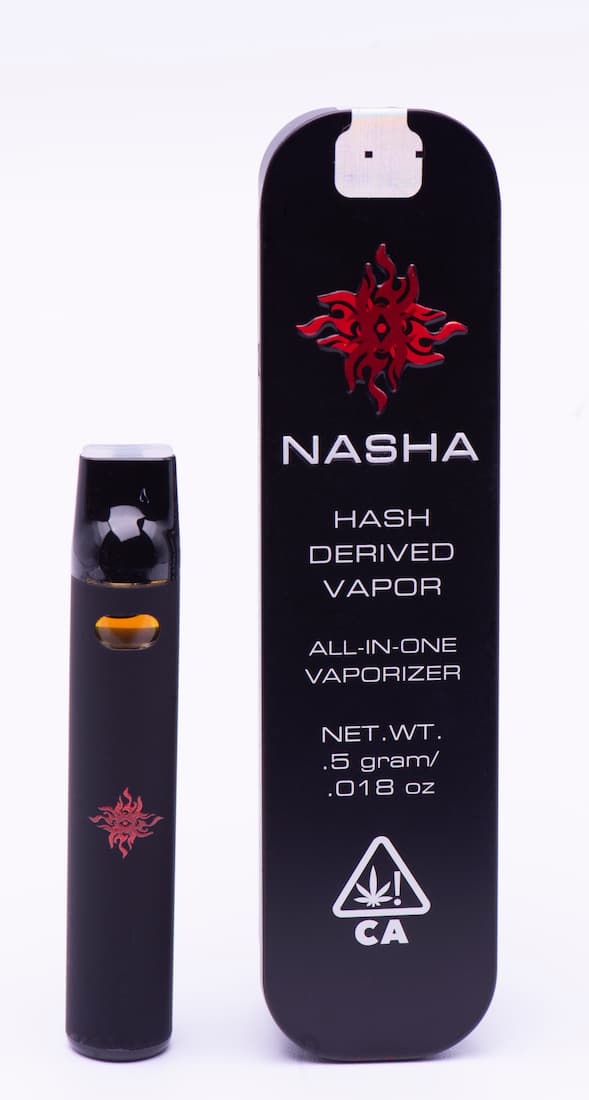 We've always been fans of the hash artistry at Nasha, and the team's approach to traditional hash. They've done well with their entry into the vape space, bringing their own brand of discreet class to the category. Their all-in-one showcases the classic OG/GMO terps with a silky draw.
78% THC | 6.6% Terpenes
nashahash.com
---
Dr. Norm's
SleepWell SleepVape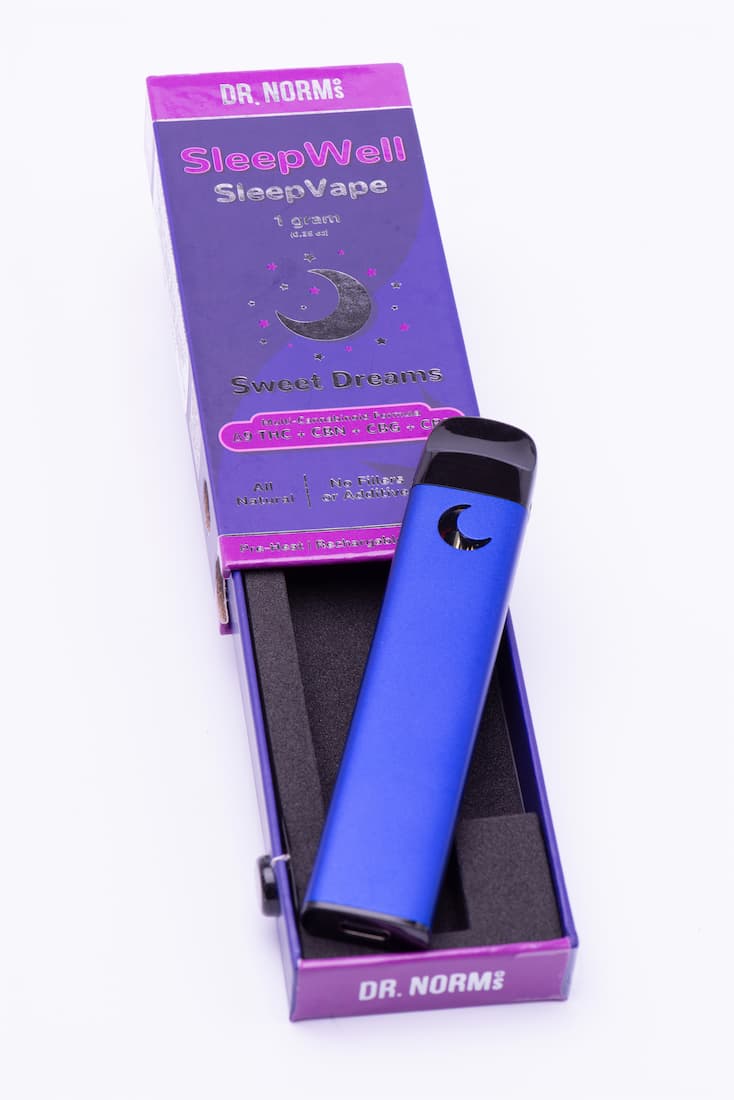 While most of the cartridge brands on the market go for the unobtrusive delivery of recreational consumption, the MJ mixologists in the Dr. Norm's lab aim straight at the wellness space. This four-cannabinoid sleep pen has a therapeutic feel to it and effectively delivers its calming effects in the wee hours.
55% THC | 17.57% CBN | 7.14% CBG | 9.89% CBD
@doctornormsofficial
---
Devi
Melon Fizz Rosin Cartridge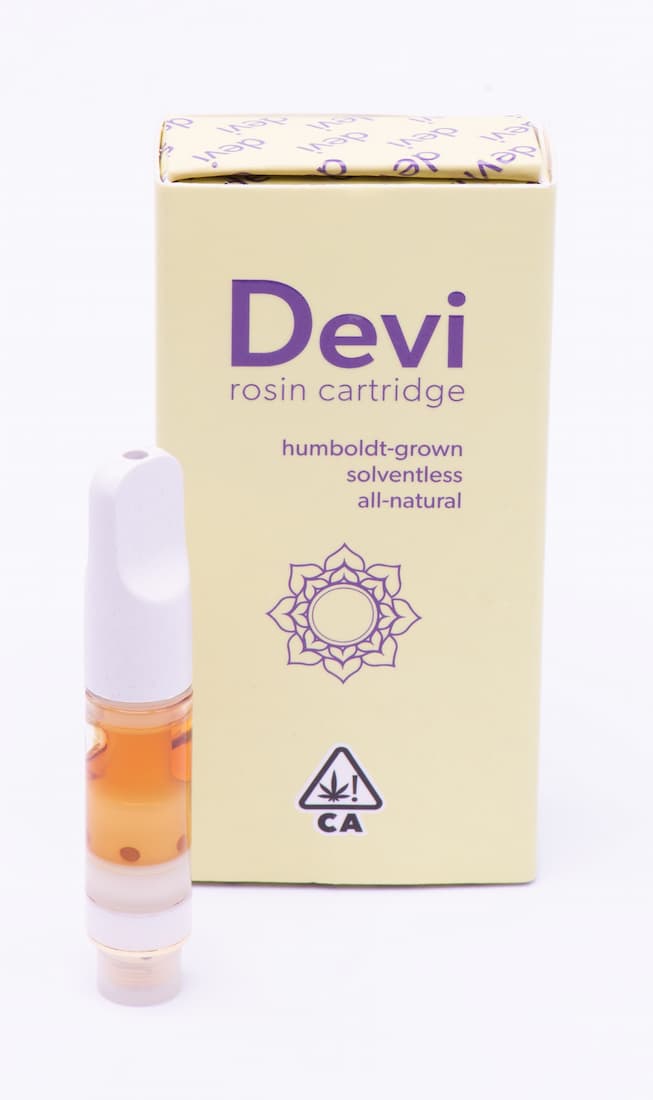 Bringing on the fruity terps, this cartridge from the crew at Humboldt's Devi Cannabis stays true to its Melonade x Moonbow 75 lineage, with light, refreshingly tasty vapor. We're looking forward to seeing what this crew puts out in the future.
---
West Coast Trading Co.
Copilot Cartridge
Dream Wedding Live Resin Terpenes & Melted Diamonds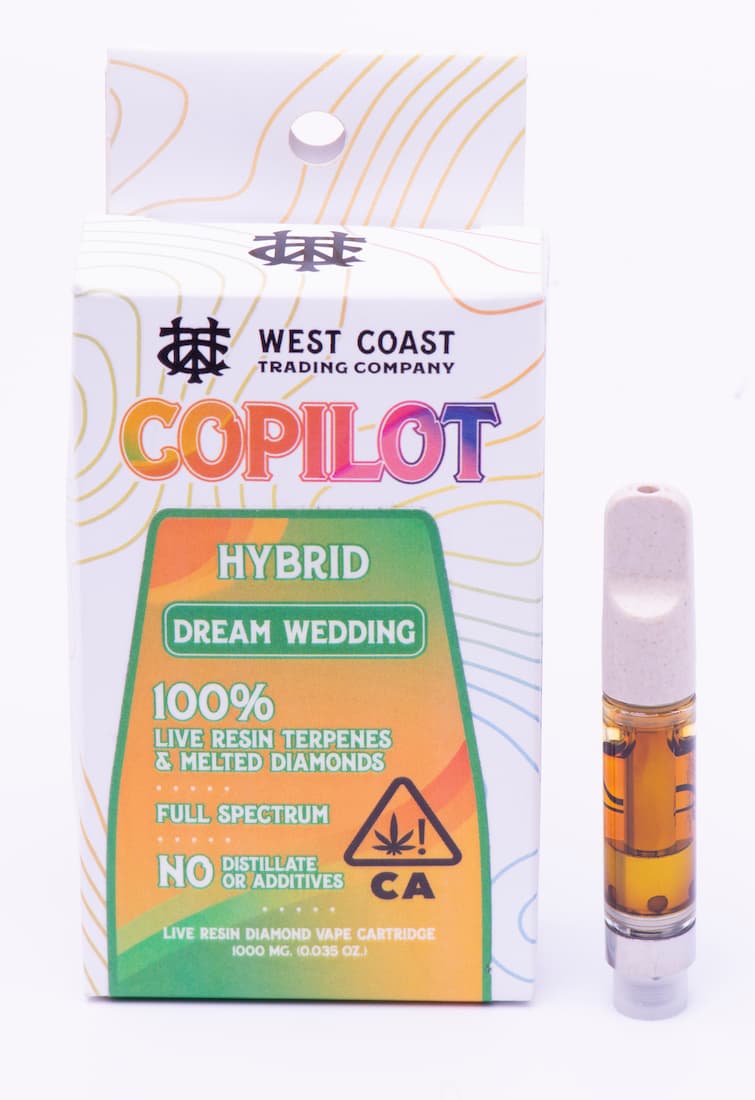 West Coast Trading Co. offers a complex melange of fruit, earth and perfume notes that continue to develop after the exhale – making for a pleasant, unique vaping experience.
87.69% THC | 8.85% Terpenes
@westcoasttradingco
---
Cream of the Crop
Hassionfruit Live Resin Vape Cartridge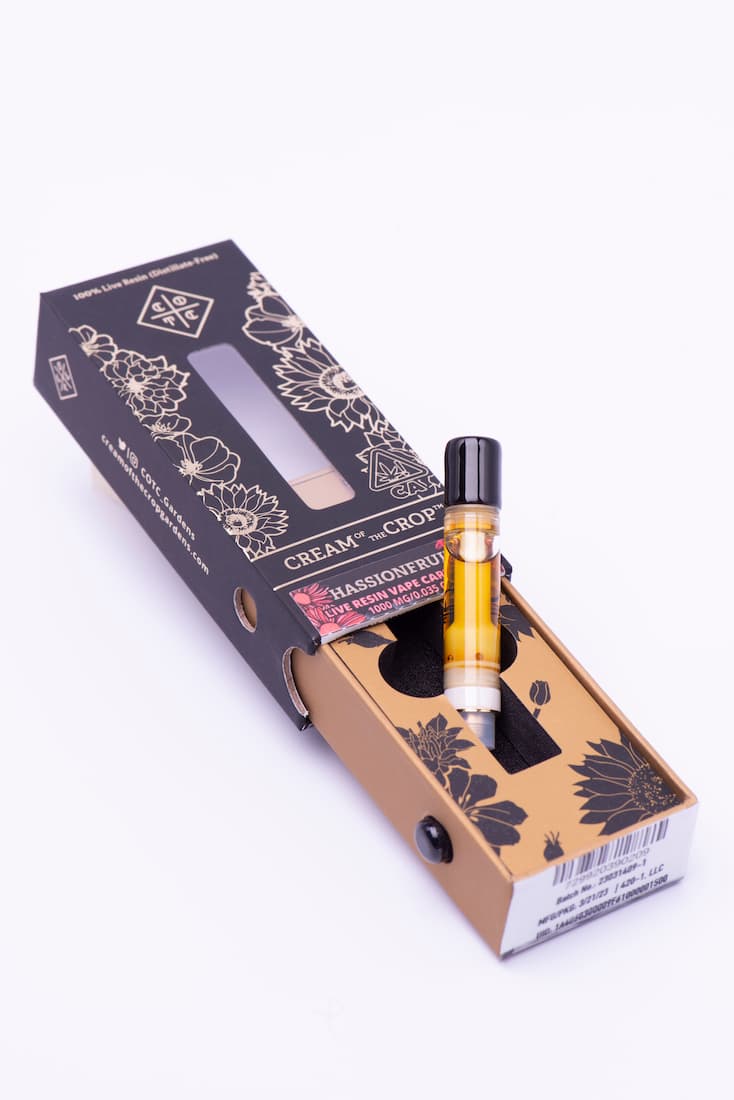 Luscious clouds of tantalizing, nostril-tickling terplicious vapor billow from this solid release from the Cream of the Crop crew. A cross of (Platinum Cookies x GDP) x Blue Power x Gelatti, the Hassionfruit lives up to its name.
84.4% THC | 11.91% Terpenes
creamofthecropgardens.com | @COTC_gardens
---
Real Deal Resin
Rainbow Belts All-in-One Cartridge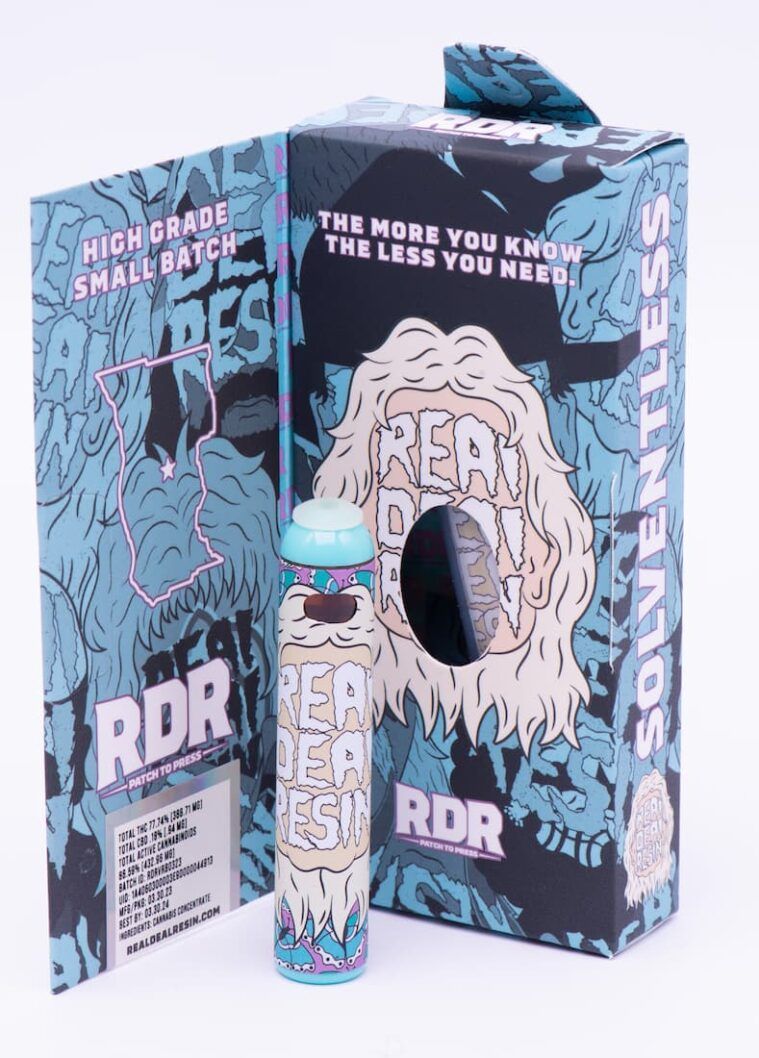 Real Deal Resin never disappoints. The colorful, pro-wrestling-inspired packaging and all-in-one cartridge is a work of art in and of itself, but the candy terps are the real draw here. It's discreet and tasty, and the disposable unit is rechargeable in case the battery goes out before you finish the goodness within.
77.74% THC
realdealresin.com | @realdealresin_