Kalya
Tropical Sorbet Fresh Press Rosin
(Papaya x Mimosa) x ZT Wilson
Cultivated by Tuxedo Llama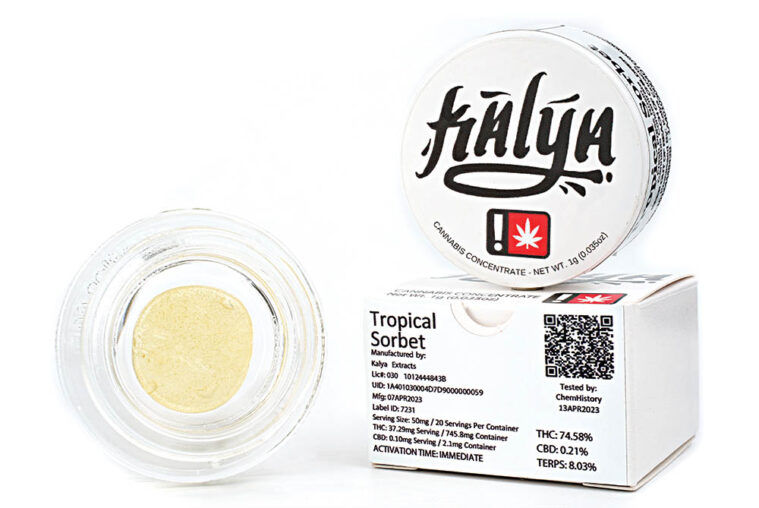 Opening a jar of Kalya is like staring deep into the quantum realm. This Tropical Sorbet smells like expensive suntan lotion and the flavor is a strong Papaya that's peppered at the edges and ends with something light and hard to immediately put your taste buds on. Welcome to Oregon, we're glad you're here.
74.58% THC | 0.21% CBD | 8.03% Terpenes
kalyaextracts.com | @kalya.oregon | @tuxedo_llama
Review by Matt Jackson @actionmattjackson
Piff Stixs
Bermuda Rosin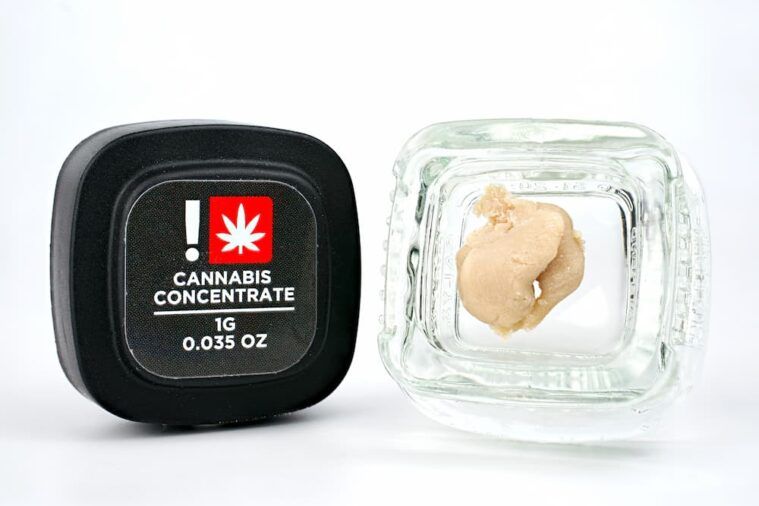 Pop the jar and you'll find a sand-colored, playdough-like substance. But this flaky rock of rosin offers up a chunky, chalky consistency that breaks apart for easy scooping and slips right into the banger. It smells of sour cheese with faint floral notes – a profile that follows through from nose to smoke.
69.95% THC | 0.19% CBD
piffstixs.com | @piffstixs
Review by Amanda Day @terpodactyl_media
Bonsai
Obama 90u Live Rosin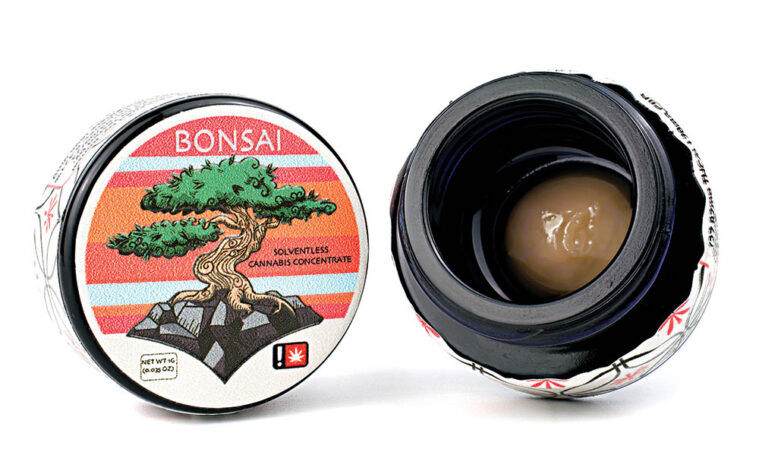 Coming in beautifully redesigned packaging, Bonsai outdid themselves with rosin that's floral, doughy and a little bit funky, with the color of white peach nectar. This brand uses exclusive AI technology to help them grow strains for their single-source concentrates. The 90u Obama is an amazing rosin that carries a beautiful floral scent when it's heated up.
69.69% THC | 0.04% CBD | 8.42% Terpenes
bonsaioregon.com | @bonsaisolventless2.0 | @bonsai.farms
Review by Matt Jackson @actionmattjackson
Focus North
Gary Payton Rosin
The Y x Snowman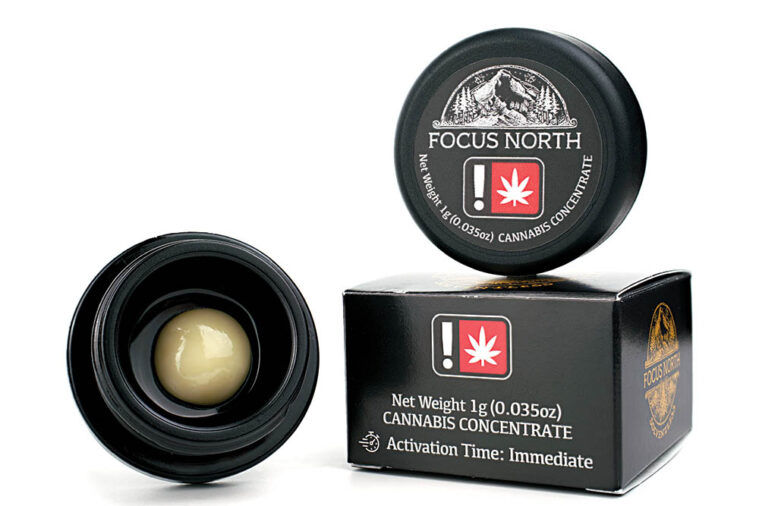 A puddle of rosin rests in this juicy jar, glossy and glistening with terps. The savory flavor is just waiting to show you its peppery pizazz as a relaxing dose of caryophyllene complements the pungent profile with each lift of the lid. Following through until the end, it clings to the palate like you forgot to say "stop" when the waiter was spinning the mill.
73.11% THC | 0.16% CBD | 11.44% Terpenes
focusnorthgardens.com | @focusnorthgardens
Review by Amanda Day @terpodactyl_media
Sand Castle Hash Co.
Strawberry Guava 6-Star WPFF Live Rosin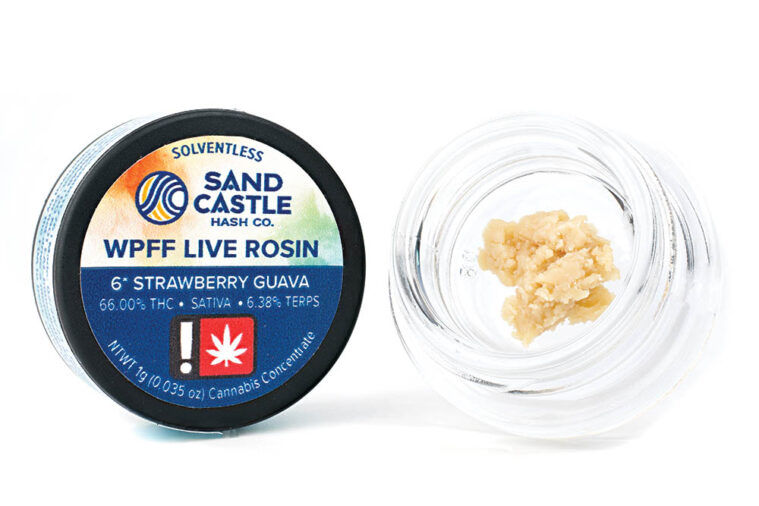 Smells like a fruitcake that's been soaked in booze and left out to dry. The taste is an overwhelming, almost confusing expression – like a bag of candy mysteriously labeled "fruit flavored." Whole plant fresh frozen is an arena where Oregon tends to shine and this is another example of that excellence – which Sand Castle calls a six-star example.
66% THC | 0.1% CBD | 6.38% Terpenes
sandcastlehash.com | @sandcastlehashco
Review by Matt Jackson @actionmattjackson
Lofty
Cap Junky 70-149μ Hash Rosin
Alien Cookies x Kush Mints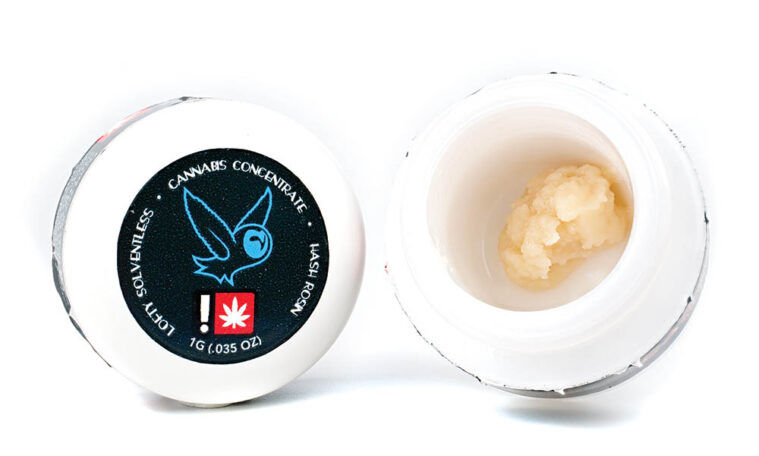 Lofty's rendition of Capulator and Seed Junky's cross is a luxurious, whipped butter consistency and color. The nose comes through with a creamy dough that dances close to its Alien Cookies origins. Something feels faintly fruity about this profile, revealing an earthy vanilla upon further investigation. But there's a hint of mint that makes its way through the nose, appearing again for a grand finale on exhale.
68.36% THC | 0.17% CBD | 7.10% Terpenes
loftygrowers.com | @loftysolventless | @loftygrowers
Review by Amanda Day @terpodactyl_media
Otis Gardens
Strawberry Mints Rosin
Melon Mints x Strawberries & Cream F2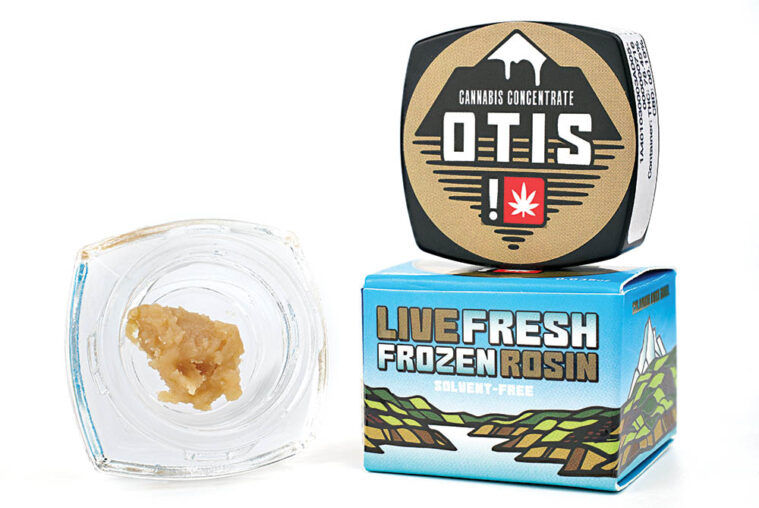 Located in the Hood River Valley, this indoor hydroponic brand presses its own fresh frozen flower into some impressive live rosin. The smell on this is delicate and subtle, but in the flavor, doughy mints and strawberries compete for dominance in a taste that sits low in your mouth.
78.45% THC | 0.19% CBD | 7.2% Terpenes
otisgarden.com | @otisgardenshoodriver
Review by Matt Jackson @actionmattjackson
TJ's
Apple Jelly Live Rosin
Jealousy x Apples and Bananas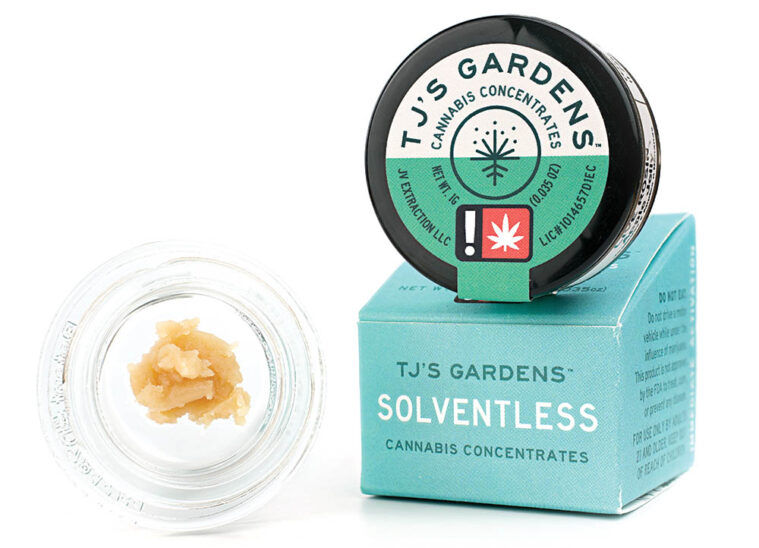 Creamy, fruity and smooth until the end, this single-sourced beauty is something to behold. The heavy Gelato background opens the way for a slightly sweet, velvety profile that both looks and tastes like a warm Golden Delicious apple pie in your banger. Filled with flavor and kind on the mind, this powerful little snack is great for any time of day.
73.26% THC | CBD 0.19% | 11.74% Terpenes
visittjs.com | @tjsoregon
Review by Alex Dubs @workdubs
Oregrown
Oishii Live Rosin Badder
Flavor Pack x Moonbow
Cultivated by Terra Australis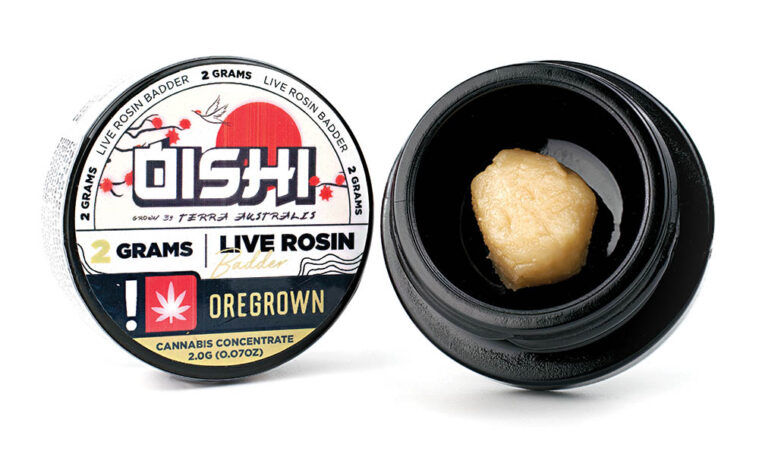 Spicy then sweet, this perfectly malleable bucket of flavor tingles the taste buds in an invigorating way. The first inhale bites through the senses with a smoky whiskey taste that truly showcases the Flavor Pack parentage. The unassuming incense quickly transforms into a sweet perfume that lingers long after the banger cools down. The effects are relatively strong, making it the perfect nightcap to end the day.
71.70% THC | 5.4% Terpenes
oregrown.com | @oregrownindustries | @tacultivators
Review by Alex Dubs @workdubs
Eugreen Extracts
Donny Burger Fresh Frozen Live Rosin
GMO x Han Solo Burger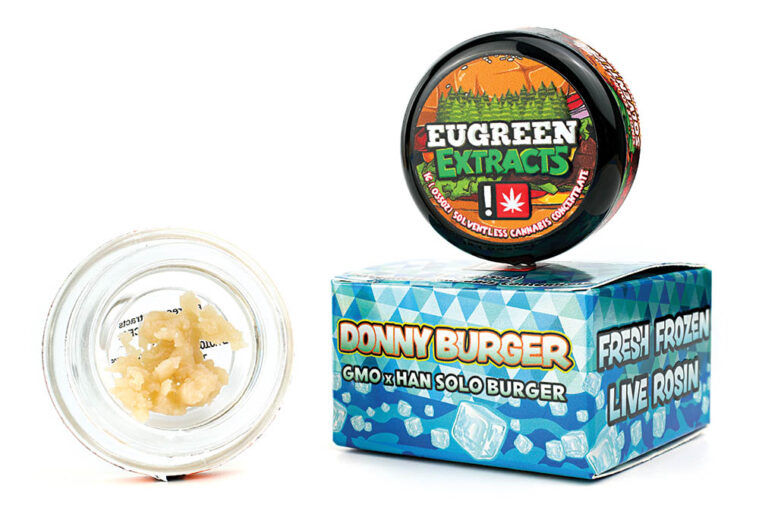 Beyond the elite genetics, Eugreen has outdone themselves with this concentrate. Cracking the seam on this jar is a guaranteed ticket to flavor town, filling the room with a savory, funky scent. The terpy rosin melts beautifully even at a low temp – releasing the fully loaded flavors of garlic, gas and pine forest. Fries sold separately.
87% THC | 9.7% Terpenes
@eugreen_extracts
Review by Ryan Herron @theloud100
Squishy Scientific
Chile Verde Temple Ball
Key Lime Pie x Lavender
Cultivated by R&D Northwest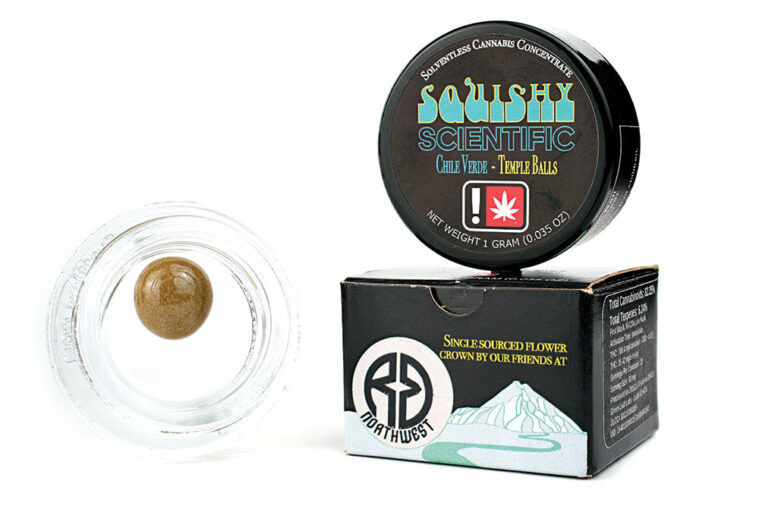 Glossy as a fish eye, these temple balls are a gorgeous light blonde color. With a little stirring, the taffy-like consistency lets out a gassy roar that's like the plastic on a new car. A lavender aroma springs out after applying heat and the taste is funky and fruity, with something smokey at the back of the line.
70.8% THC | 6.24% Terpenes
squishyscientific.com | @squishyscientific | @rdnorthwest
Review by Matt Jackson @actionmattjackson
Forte
Mr. Cookies 90μ Live Rosin
Cultivated by Decibel Farms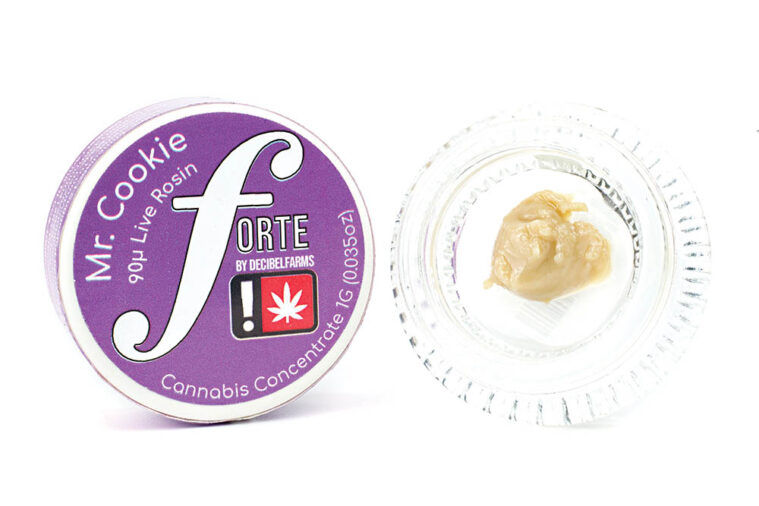 A deep, minty pine protrudes through the hashy hits of this gray-gold rosin with a pudding crust-like quality. It softens as the dabber dips in, and opens up to exude even more pine with a creamy, earthy undertone. The inhale hits the inside of your throat with a menthol sensation, lending your lungs a woody awakening.
71.09% THC | 8.80% Terpenes
decibelfarms.com | @fortehash | @decibelfarms
Review by Amanda Day @terpodactyl_media
Decibel Dabs
Apple Slapz #3 90μ Live Rosin
(Apple Fritter x Sherb) x Kush Mints
Cultivated by Decibel Farms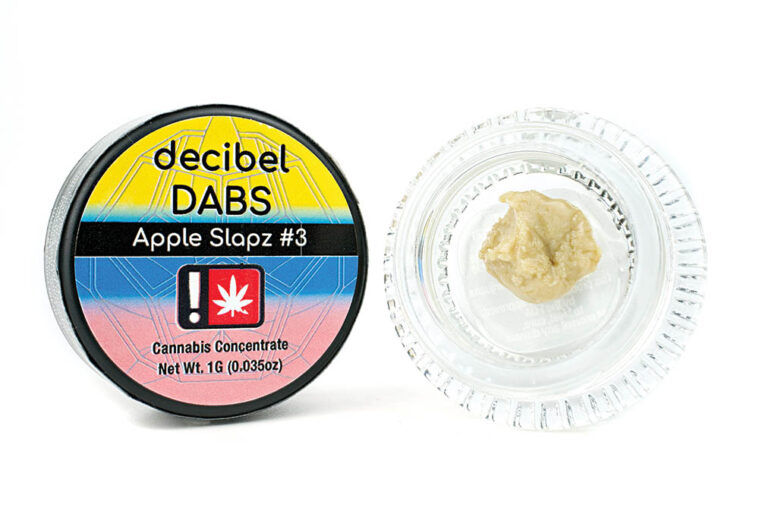 This soft, granola-tinted badder is reminiscent of a baked apple and cinnamon pie left cooling under an evergreen tree. That crisp, sour apple start is complemented by a kick of Kush that lasts through your last exhale. Dancing all the way down the tongue, the Kush carries you through the finish line.
65.4% THC | 7.03% Terpenes
decibelfarms.com | @decibelfarms
Review by Amanda Day @terpodactyl_media
Verdant Leaf
Picard Live Rosin Cold Cured Badder
Vulcan Fuel x Tally Mon x Lemon Cane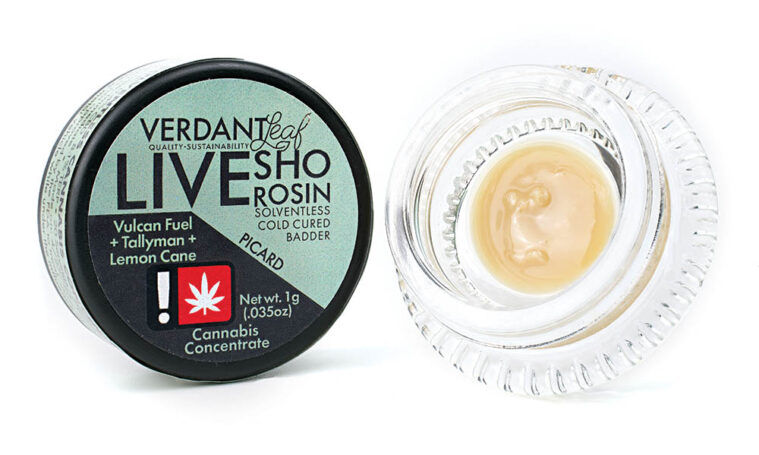 At first dab, this three-way mix of solventless hash tastes like a balanced mix of fruity, fresh and funky. Upon closer inspection, each strain offers a unique profile that complements the other flavors and melds into something distinct. With a complex flavor and spacey effect, it's no wonder the crew is calling this mix Picard.
67% THC | 0.4% CBD | 8.1% Terpenes
verdantleaffarms.com | @theverdantleaf
Review by Ryan Herron @theloud100
Nelson and Co.
Triple Burger Live Cold Cure Hash Rosin
GMO x Double Burger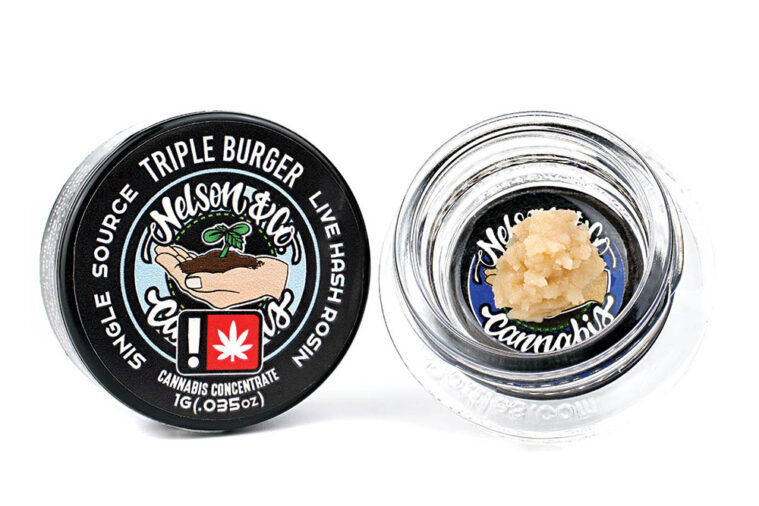 Triple Burger brings nothing but the funk for those seeking the seductive, full flavors of the genetic equivalent to GMO-cubed. Dipping into the dab's cookie-dough texture only releases a plume of fumes that further solidify the concentrate's full-course meal of garlicy, French onion soup served in a sourdough bread bowl.
74.57% THC | 8.09% Terpenes
nelsonandcompanyorganics.sevesheldon.com | @nelsoncompanyorganics
Review by Amanda Day @terpodactyl_media