Major Cannabis Infused Drink
Assorted Flavors
100mg THC/bottle
When it's time to get majorly stoned, which is basically all the time, look no further than the delicious drinkable lineup from Major. With 100mg THC in each bottle and tasty flavors like Sunset Pink Lemonade, Sacred Grape or Pacific Coast Blue Raspberry, these ready to slam drinks are perfect for sharing, chugging, or adding to a favorite cocktail or mocktail recipe to create a new experience that will be majorly delicious and intoxicating!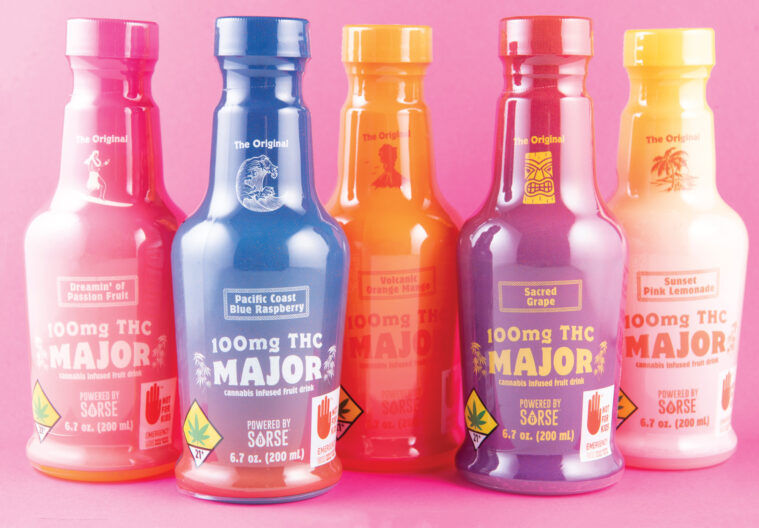 ---
Evergreen Herbal
HiLite Cannabis Infused Drink
100mg THC/bottle
forevergreenherbal.com | @evergreen_herbal
Let these delicious blending concoctions be your holidaze highlight – with zero sugar and zero calories – but a totally stoney 100mg buzz that's perfect for whatever situation you want to make high. Yummy flavors include lemonade, strawberry lemonade, mango and berry, all with no sugar – making them a perfect light addition to any cocktail/mocktail mix recipe, or ready to sip guilt free in the season of caloric indulgence.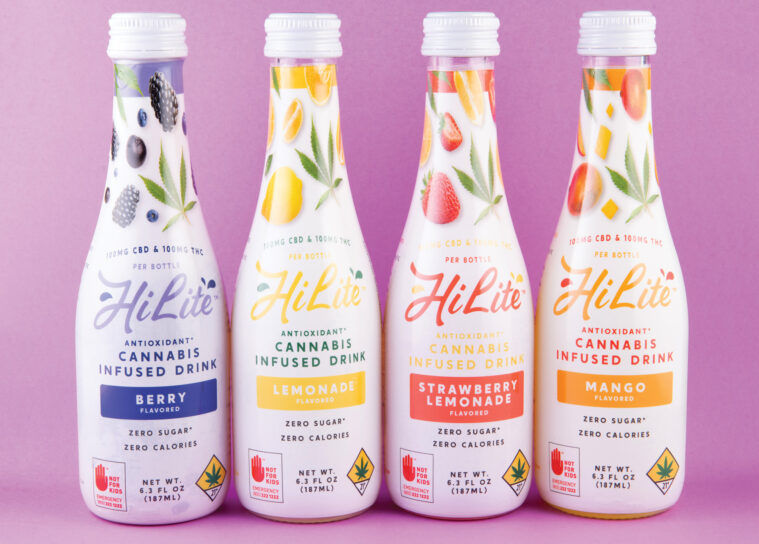 ---
Happy Apple
Sparkling Apple Beverage
100mg THC/bottle
drinkhappyapple.com | @happyapplewa
Apple cider is no longer a kids table pacifier, it's ready for adults and perfect for pouring a toast this holiday season. Sweet and lightly carbonated, each sip feels like a throwback to the joy of the holidays, but this is one cider that will get you toasted like your weird uncle's burnt pie. But don't make it weird – just pass the Happy Apple and get everyone into the fresh-pressed and baked mood!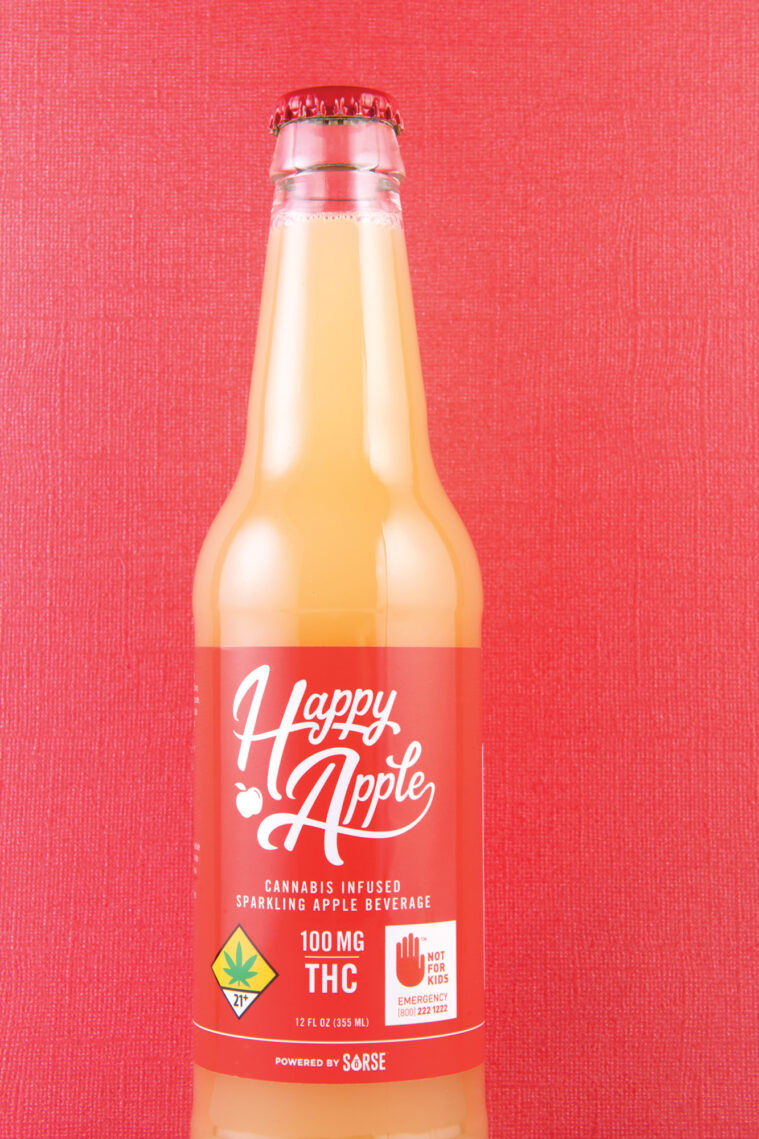 ---
Evergreen Herbal
Blaze Soda
100mg THC/bottle
forevergreenherbal.com | @evergreen_herbal
From infused Old Fashioned Root Beer floats to the thick and syrupy Old School Grape that tastes like a schoolyard pop, the team at Evergreen Herbal has a hit with their Blaze infused sodas. With 100mg of THC in each bottle, these are tasty enough to sip solo, or use for a fun infusion to make any party blaze-worthy.
---
Evergreen Herbal
Sinner & Saints Canna Shots
100mg THC/bottle
forevergreenherbal.com | @evergreen_herbal
Whether you're a sinner or a saint, we don't judge – and all this morality-virtue signaling mainstream media swill is leaving us high and dry anyways. Enter the perfect pocket-sized Canna Shot, which now comes in sugar-free versions, and will elevate your living experience to a point where you can float above the judgment, and be happily high with a quick hit of liquid Cannabis that's easy to shoot as a shot, or mix into your favorite beverage.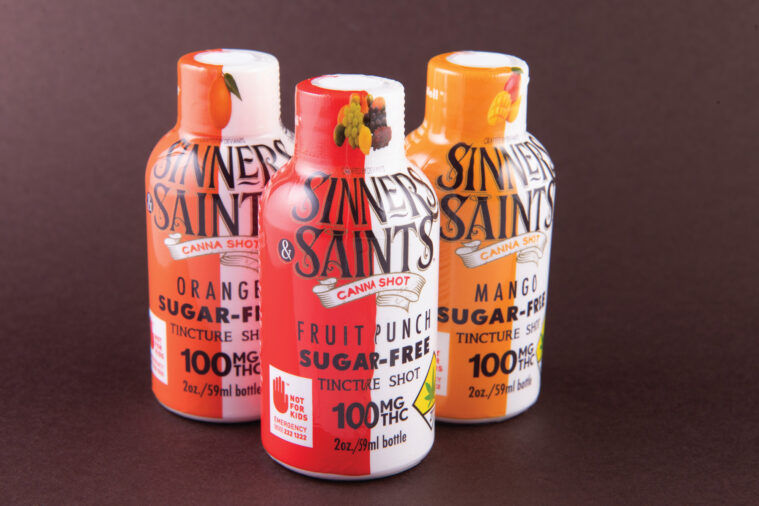 ---
Green Revolution
Assorted Tinctures & Dosages
greenrevolution.com | @expgreenrevolution
We love the collection of water-based tinctures from Green Revolution, with unique cannabinoid blends for wherever your medicinal or recreational needs are. They feature scientifically dosed blends that can be added to any liquid, or dropped under the tongue for a fast-acting sublingual tincture experience. From their Beauty Sleep high-CBN tincture, to the 5:1 CBD-dominant Reset, the innovative team at Green Revolution has a variety of tinctures with effect-specific blends that will help get you in the mood for creativity, rest, a reset – or however you choose to power your next Cannabis edible adventure.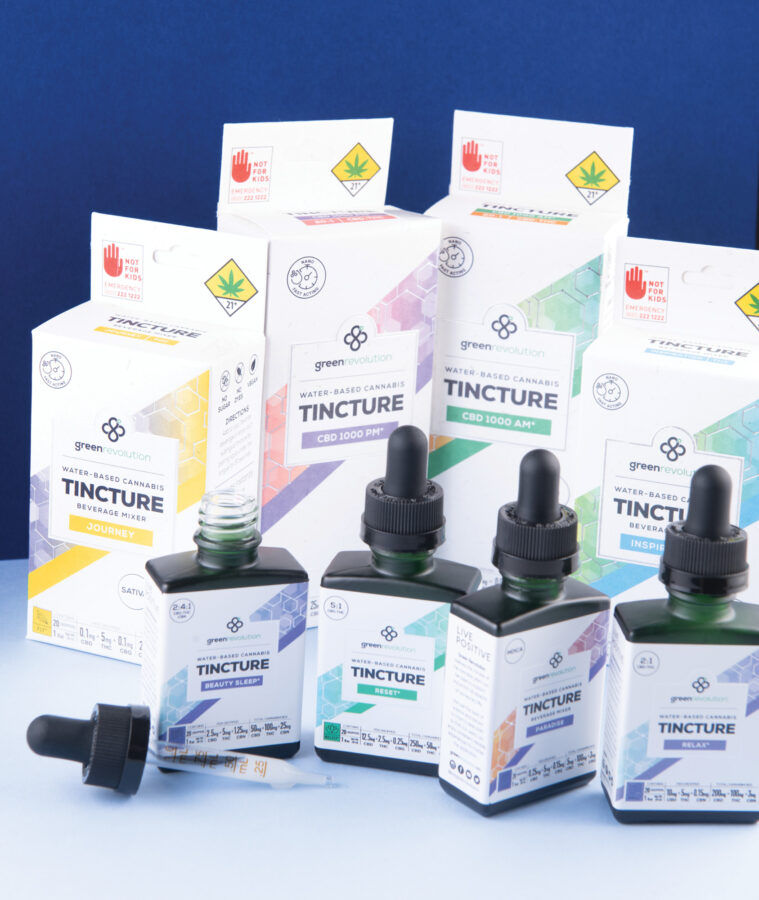 ---
Sun Gaze
Lemon Ginger Spritzer
2.5mg CBD & 5mg THC/serving
Lemon and ginger go hand in hand for upset tummies or as a healthful blend for regular intake, and these spritzers blend both in a lightly sweet and fizzy spritzer that has a low dose of CBD and THC for relaxation and medicinal effects. Easy to blend into a drink, or perfect as a stand-alone beverage, these spritzers are a delicious way to find a buzz and settle our bloated holiday stomachs all in one easy sip.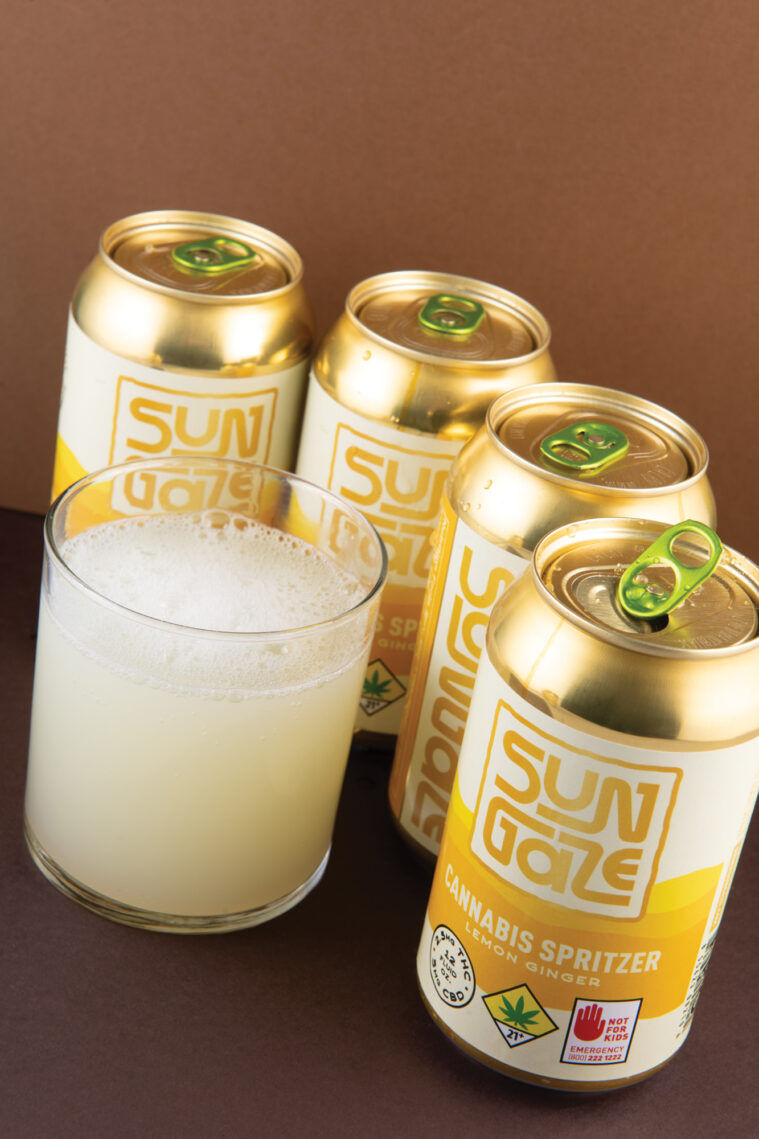 ---
Evergreen Herbal
Vertus Sparkling Cannabis Beverage
100mg THC/bottle
forevergreenherbal.com | @evergreen_herbal
Champagne is a drink that tastes and feels successful, and it's high time we got a Cannabis infused option for our stoner's version of a toast. Perfect for holiday events, or whatever you are in the mood for reveling in, this bubbly infused beverage delivers a perfect "bottle pop" experience without the alcohol – replacing a hangover with an effervescent buzz that is classy, luxurious and satisfying. Push your celebration to new heights and grab a bottle of Vertus to ring in the new year!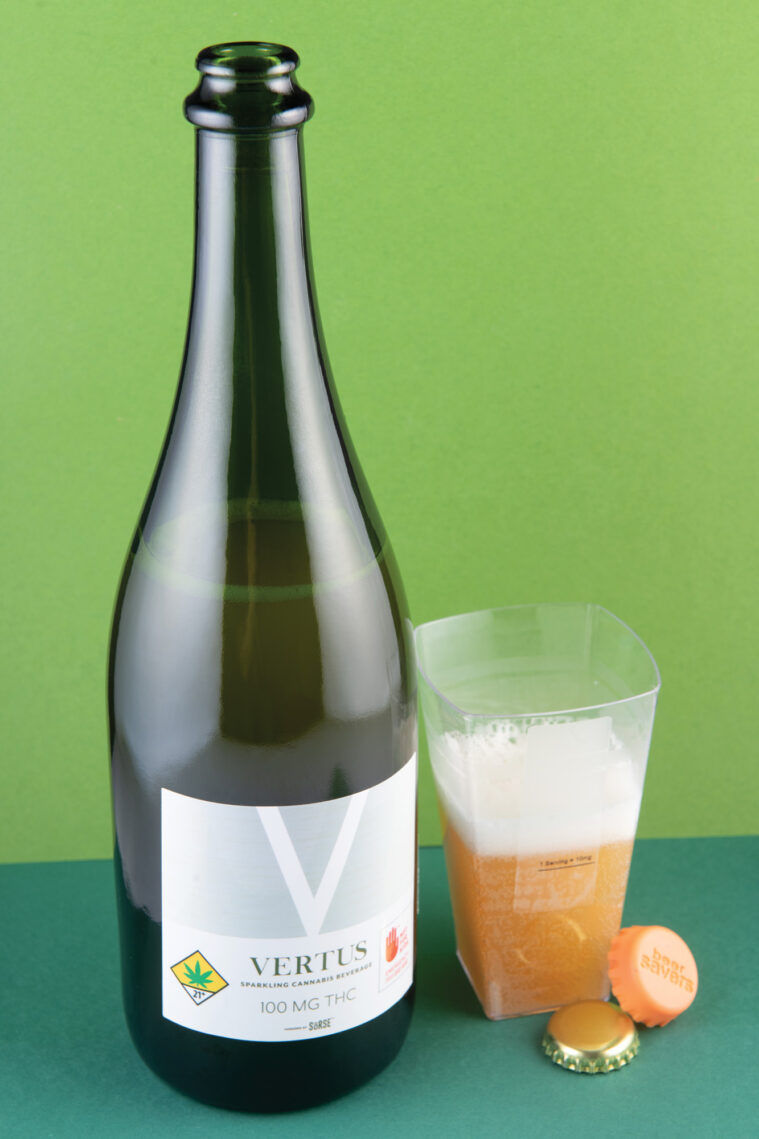 ---
Fairwinds Cannabis
Refresh & Remix Drink Powders
10mg THC/serving
fairwindscannabis.com | @fairwinds_cannabis_
Self-care this holiday season means a Refresh and Remix sesh is highly recommended, and the forward-thinking team at Fairwinds has a fresh take on mixable drink powders to bring a new tasty buzz to classic beverages. Their unique Refresh powder drink mixes blend into water, delivering 10mg THC with fun flavors like Tropical Hawaiian or Strawberry Lemonade. In the mood for an infused cocktail? Look no further than the Margarita or Pina Colada flavor, which are a perfect way to Remix a mocktail, or spice up a cocktail for an extra fun buzz this holiday season.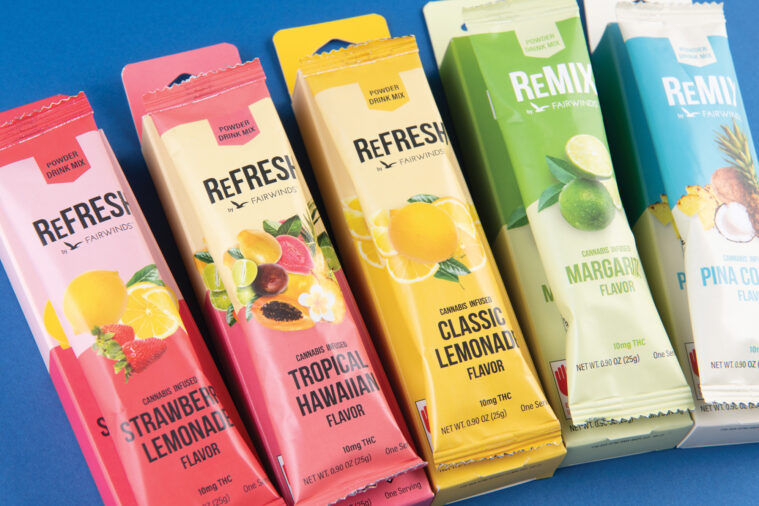 ---
Fairwinds Cannabis
Digestify & Mental Balance Tinctures
10mg THC/serving
fairwindscannabis.com | @fairwinds_cannabis_
Fairwinds is leading the Cannabis industry with innovative products that are useful, powerful, and full of medicinal values that are truly in a higher class than many generalized products. We love their entire lineup of tinctures, from Deep Sleep to a Pet CBD, but we chose to feature two that are very helpful this time of year. The Digestify works wonders for upset tummies stuffed full of sugar and Grandma's fruit cake, blending helpful herbs and natural medicines with a scientific tincture. And if the holidays are overwhelming, don't fret, grab a bottle of the Mental Balance stress support tincture, which includes CBG, CBD, CBN and THC for a relaxing experience that is medicinal, beneficial and a perfect stress reliever for any Cannabis lover.