Polar Icetracts
Frosin Rum Cakez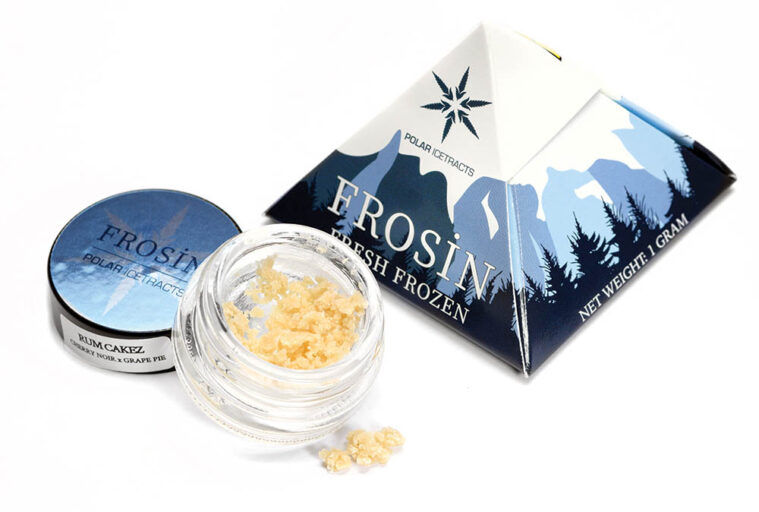 Rich and sour, with an undeniable warming vanilla-rum flavor, this hash rosin oozes with terps and exhales with a rush of lavender, brown sugar and gas that lingers on the palate as effects slow time and enhance the senses – warping the body up in a big stoney hug.
---
Constellation Cannabis
Orange Peel Rosin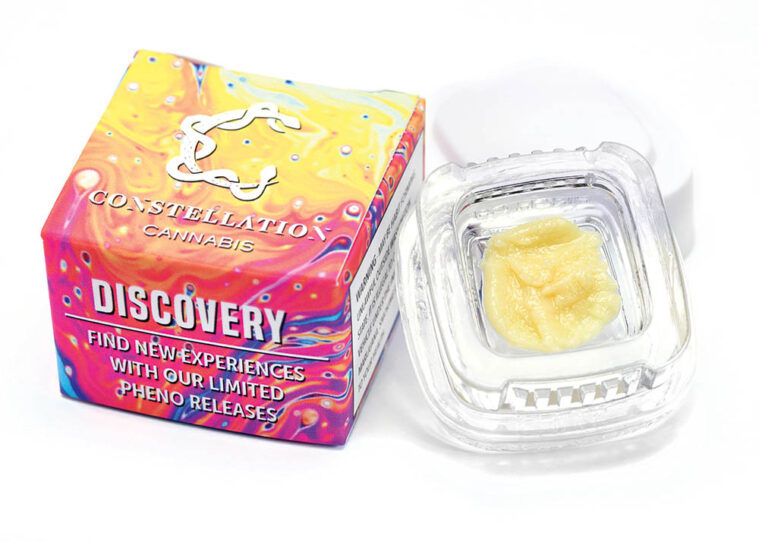 Bright and terpy like freshly-squeezed orange juice, this rosin is the perfect embodiment of the name – with a hint of underlying skunkiness and piney gas on exhale, and a rush of uplifting and drooly euphoria that settles on the mind like a warm beanie.
---
High Tide Cannabis Company
Toazt and Jam Live Rosin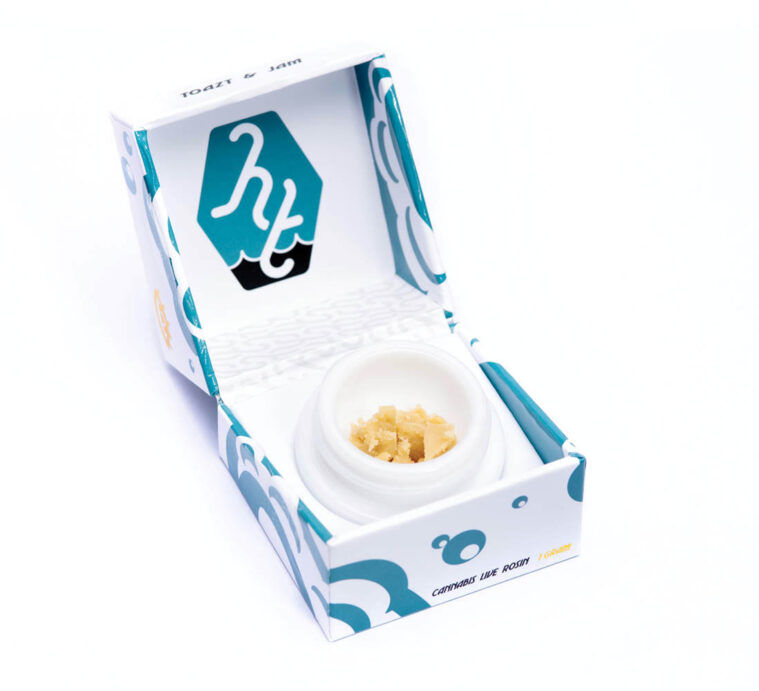 First notes from the jar have a bready-breathy-sourdough vibe that's delicious and balanced with a sweetness that shines in the vapor. Notes of juicy red berries and a vanilla tang exhale dominate – delivering a euphoric and energetic high worthy of a breakfast dab.
---
High Tide Cannabis Company
Sprungalungs Live Rosin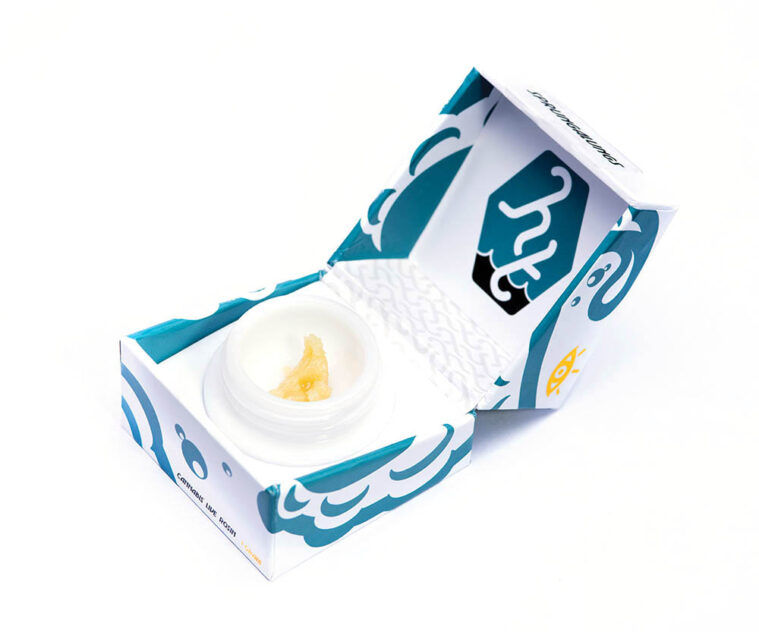 It sounds like a hot dab gone wrong, but the live rosin is pure fire – with a raw and funky nose full of sour-gassy-rubber that mellows in vapor. The result is super smooth and exhales with a sweet citrusy kiss, gripping the lungs with a high that builds from the chest and wraps around the entire body in a happy, hazy hug.
---
Redbird
Papaya Cake Ice Water Hash Donut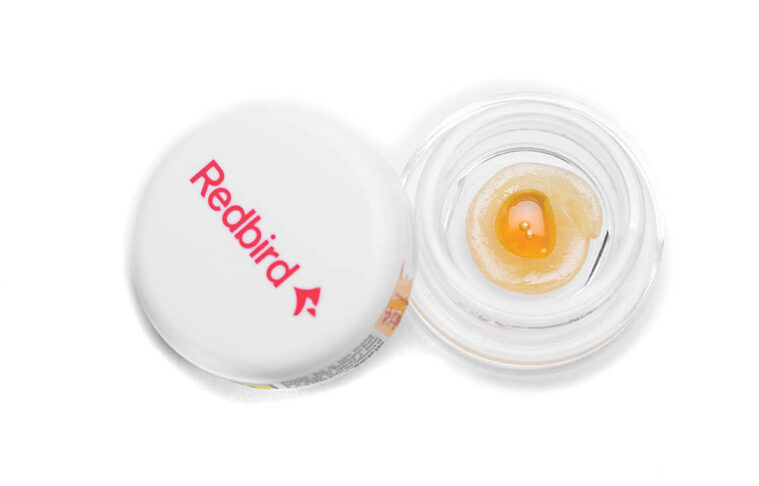 Donuts and hash, what could be better? The donut ring is fresh pressed ice water hash, and the sauce is solventless HTE using mechanical separation (warm cure), with both tasty elements made from the Papaya Cake strain. First flavors are gassy and tropical, with a sugary coating of earthy-OG-cake that shines through on a smooth exhale – delivering a heady and uplifting, but majorly stoney buzz.
---
Solr Bear Solventless
GMO Live Rosin Badder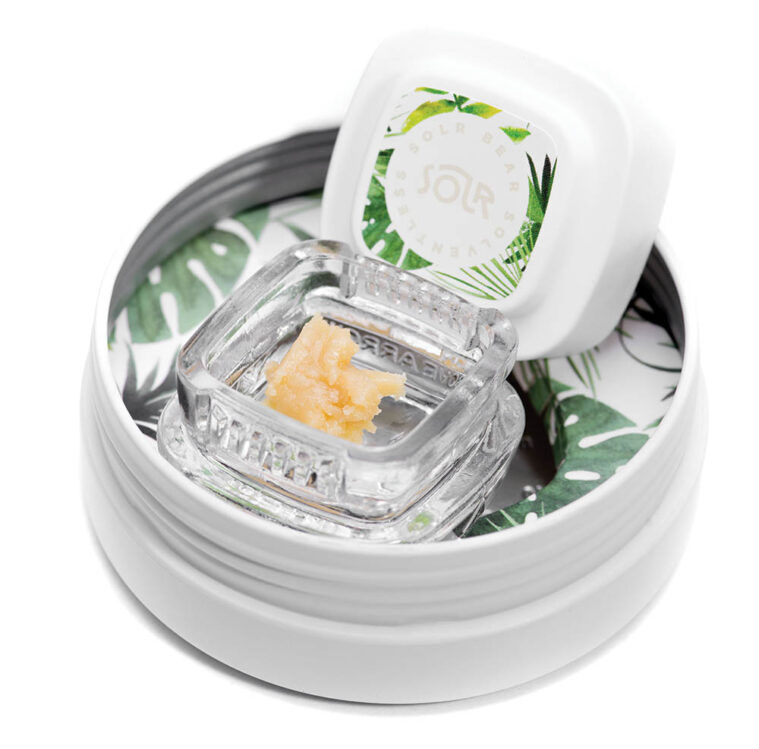 Get glued to the couch with this gas-forward rosin. The GMO terps go hard in rosin, rushing into the senses with sour garlic, rubber, citrus and fuel – numbing the mind while slowing the body down in a high worthy of the label couchlocked.
---
North Sound Solventless
Grape Pie Hash Rosin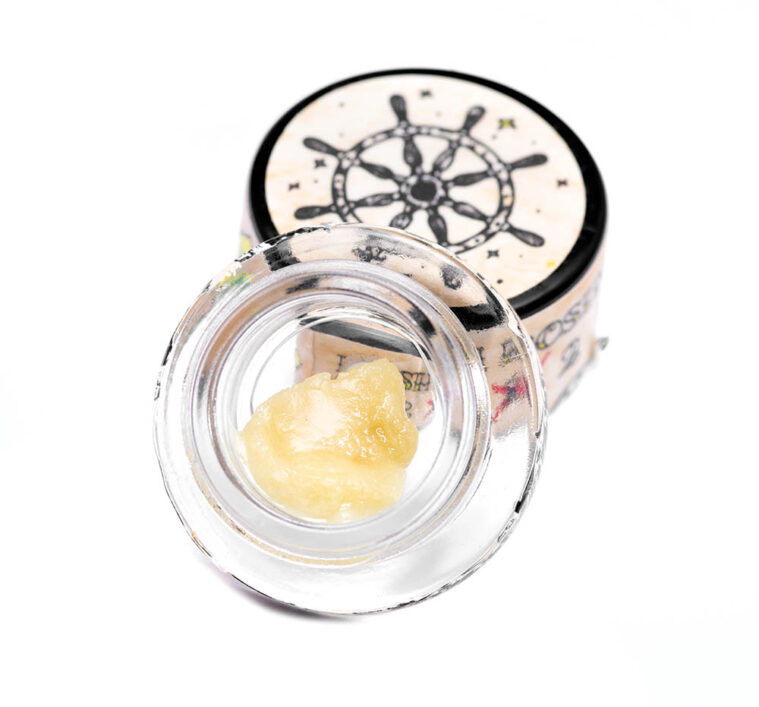 Washed and pressed in Bellingham in a one-person operation, this Cannarado genetics cross of Cherry Pie x Grape Stomper is the essence of craft rosin with high potency genetics. This golden rosin glistens with creamy grapes and berry-gas terps that are amplified by notes of sugary-breathy-pie that dazzle the senses – pushing on the frontal lobes as time slows and the mood elevates, while a floaty-euphoric high wraps around the body and mind in a wondrously terpy hug.
69% THC | 2.9% CBGA
@north_sound_2.0
---
Legendary Laboratories
Apple Jelly Rosin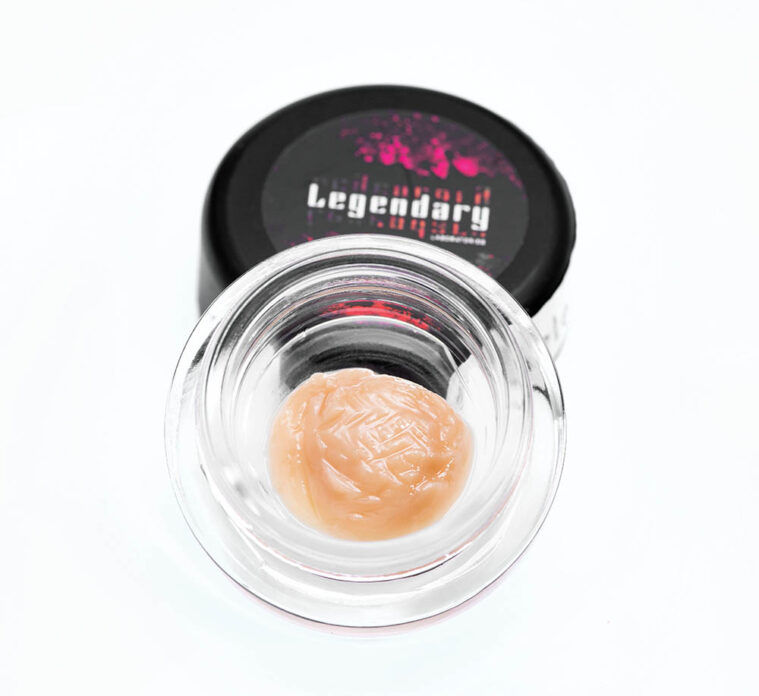 Rich and raw like a freshly-pressed glass of pulpy apple cider, this sweet and sour, gas-powered rosin delivers a complex, apple-fuel exhale and instantly mind-numbing effects – slowing time, amplifying sound, and providing a glowing sense of euphoria.
---
Lazy Bee Gardens
Wonka Zkittlez Live Hash Rosin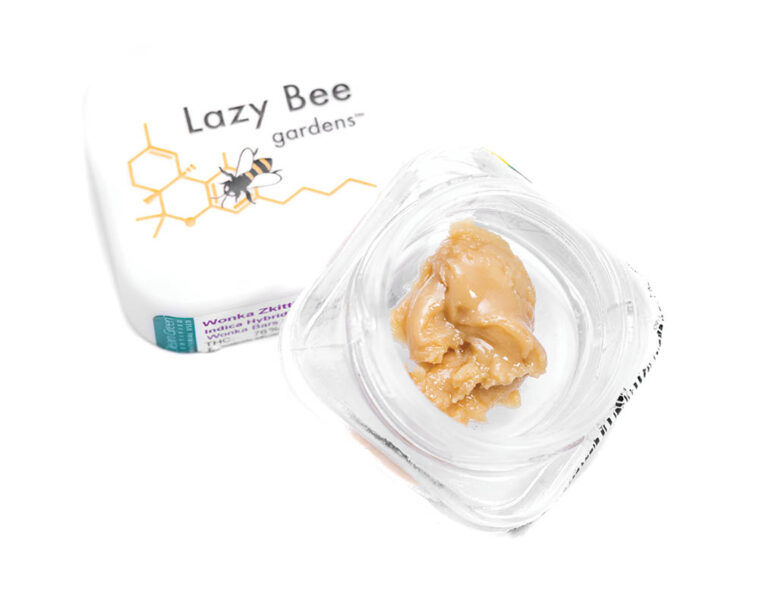 Powered by the sun, this high-terp live hash rosin is full of rich and funky Z terps, with a sour earthy-piney-chocolate that lingers deliciously on the palate – brightening senses with a sweet-grapefruit exhale while delivering a mental boost of stoney energy and euphoria that's perfect for busy days.
76% THC | 6.2% Terpenes
@lazybeegardens
---
Lazy Bee Gardens
Bacio Bars Live Hash Rosin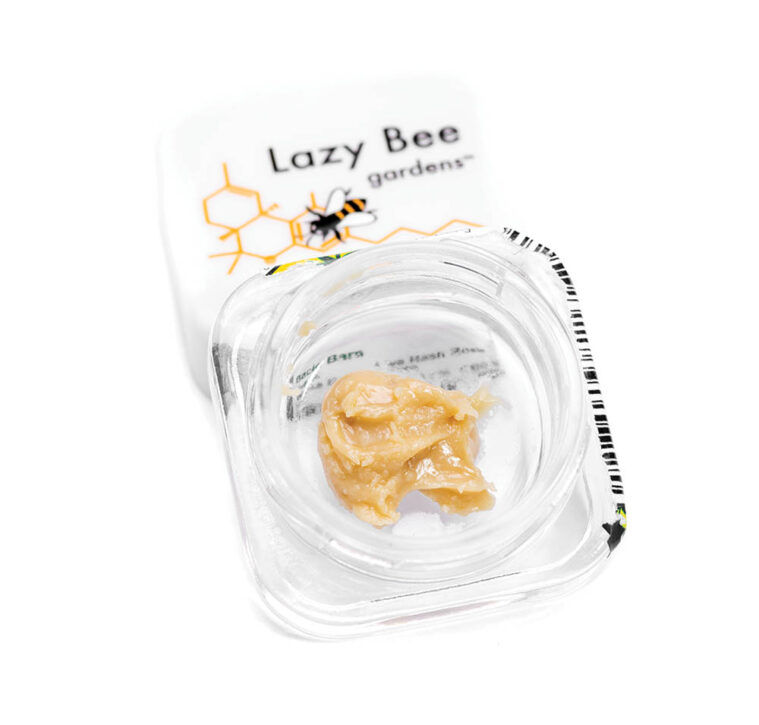 From the sun-kissed, light-deprivation greenhouses of Eastern Washington, this beautiful rosin is rich with grassy-choco-chem that's creamy and full of gas, with a sweet-fuel vapor that grips the lungs and rings the brain like a gong – stimulating thought while relaxing muscles for a chillaxed, in-the-moment high.
75% THC | 6.6% Terpenes
@lazybeegardens
---
Dank Czar
Papaya Guava Hash Rosin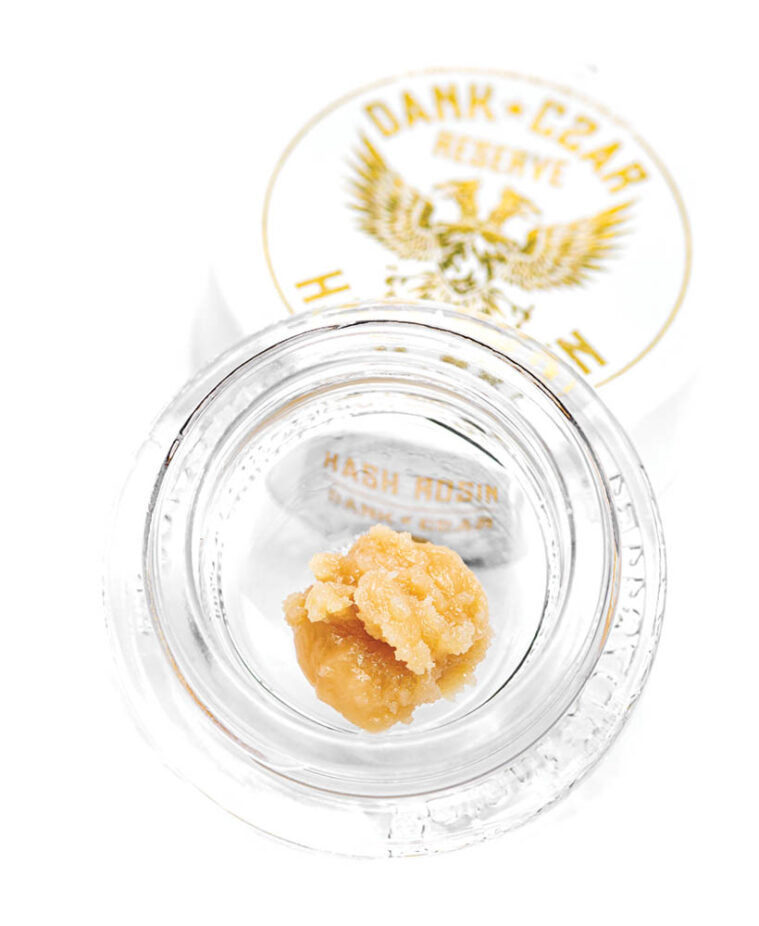 Go full tropic haze with this tasty rosin that's reeking with fermented tropical fruit wafting on a breeze of citrus-haze-funk, getting more delicious each time it's sniffed. The vapor smoothes the funk and releases the fermented fruit in a delicious exhale and uplifting, but definitely loaded, full mind and body buzz.
---
Redbird
Chocolate Bars Dry Sift Rosin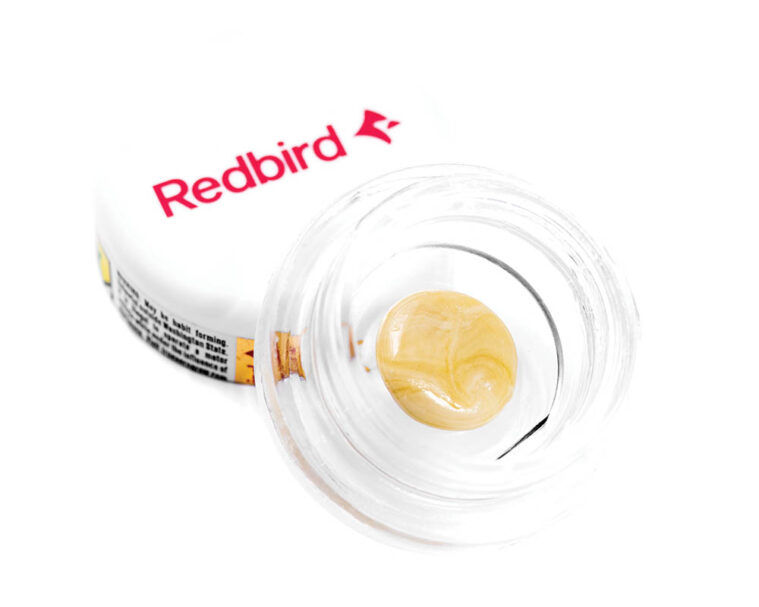 Bursting with deep earthy notes of piney-Kushy-chocolate, this gorgeous light-colored rosin smells tasty enough to eat. Low-temp dabs deliver a tangy sour-gas exhale that delivers a surprising rush of cerebral energy with a perfect amount of stoney durr – resulting in a high-fun, low-productivity daytime dab.
64% THC | 3.99% CBGA
@redbird_wa
---
Kindness Concentrates
GMO Papaya Rosin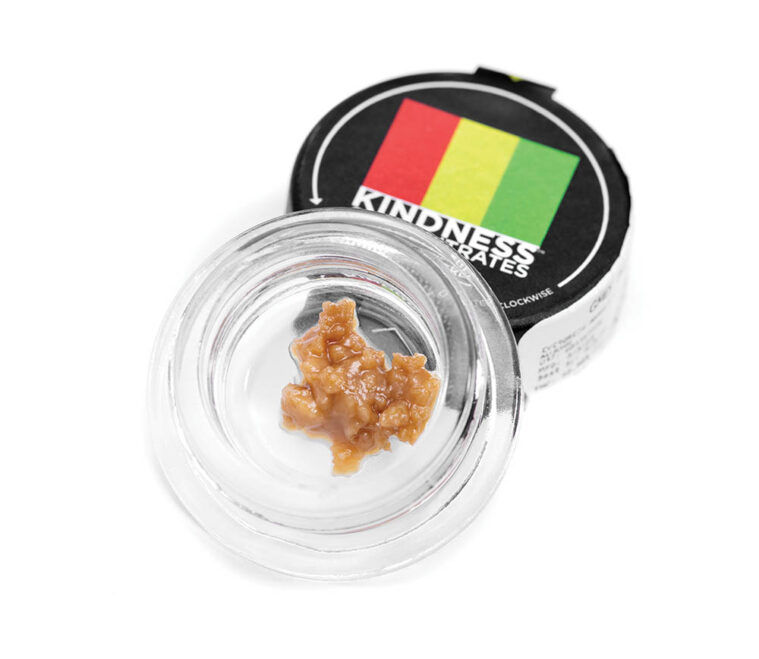 Golden, sweet and funky, this rosin smells like a slice of fresh papaya landed in a garlic box that's started to green out – super fresh and sour at the same time – with a bright and gentle vapor and a heady euphoria, with a hint of googly eyes after repeated hits.
---
Bubs The Kushman
GG4 Live Hash Rosin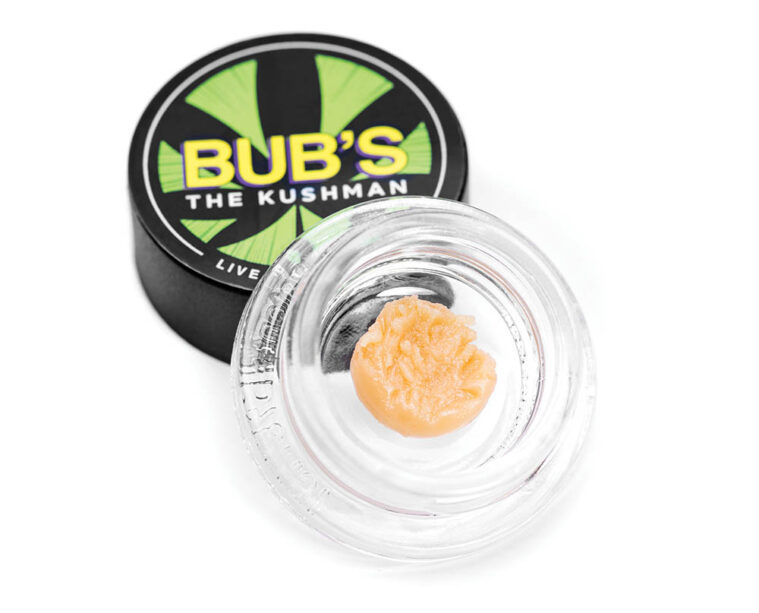 Loud and gassy, this sour-funky glue has a thick and terpy feeling when jar sniffed that amplifies and expands in a smooth vapor – gripping the lungs and gluing the mind, while couchlocking the body in a wondrously stoney indica high.
---
Bubbie's Bubble
White Tahoe Cookies Hash Rosin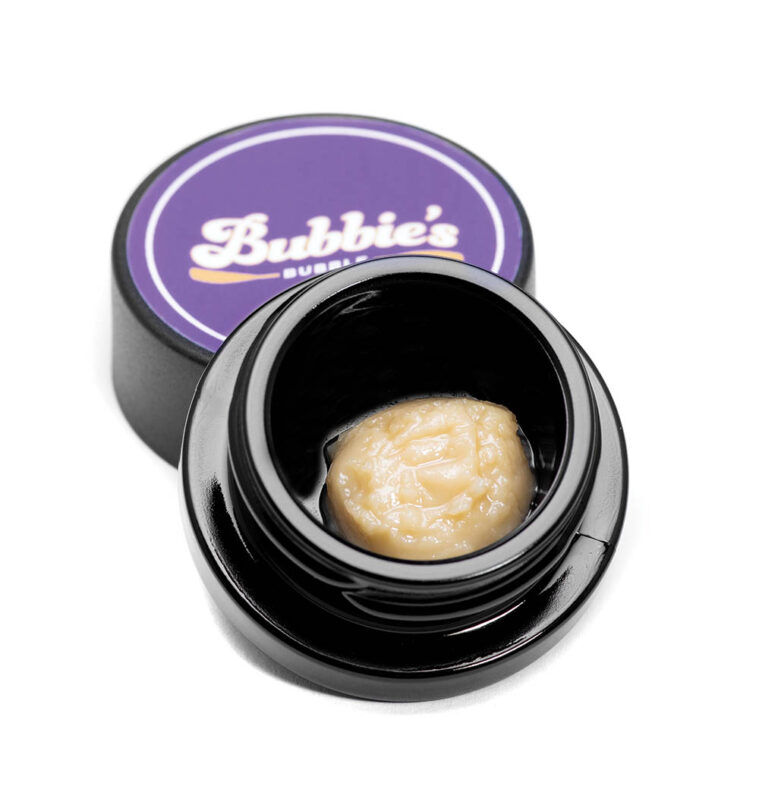 Dripping with sour-gas terps reeking of fermenting fruit, pine and a lavender-vanilla-turpentine, this funky fresh rosin ignites the mind and body with a euphoric, stoney high perfect for daytime fun.
---
Dank Czar
Planet Purple Hash Rosin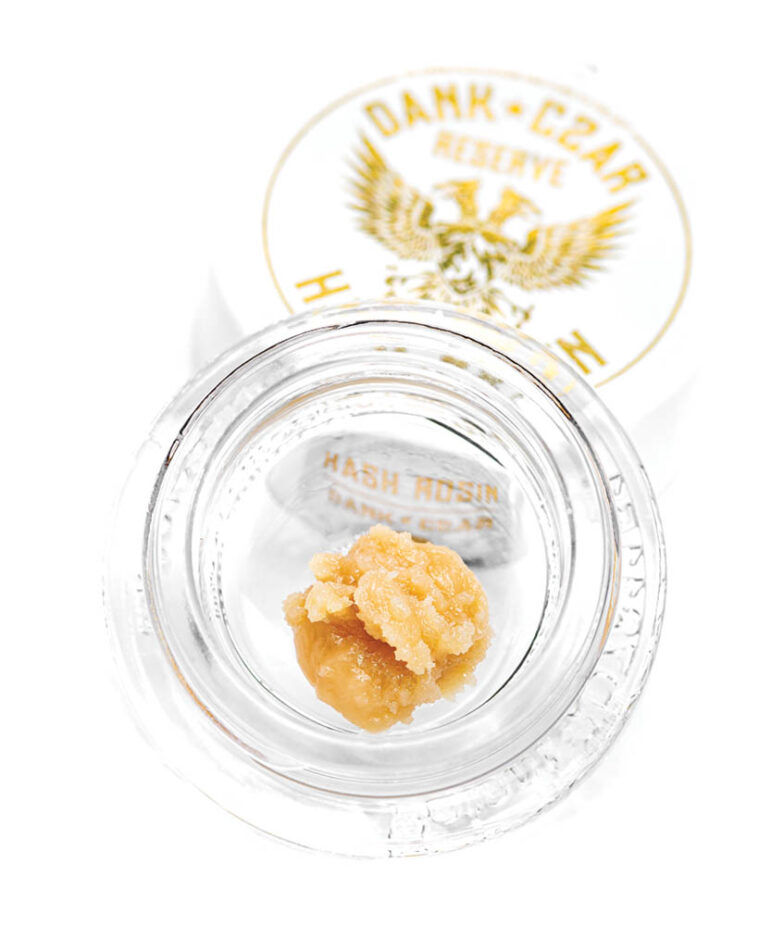 This Archive cut of Sherbidos x Moonbow is gorgeous and golden, with a breathy-sour-sherb meets creamy-vanilla-citrus and berried-Z terps in a complex and mouthwatering combination that goes full purple-creamy-Z on exhale – filling the mind with a creative contendness and bodily energy that's amazing for daytime work or pleasure.
---
Green State
Papaya Cake 73-159u Rosin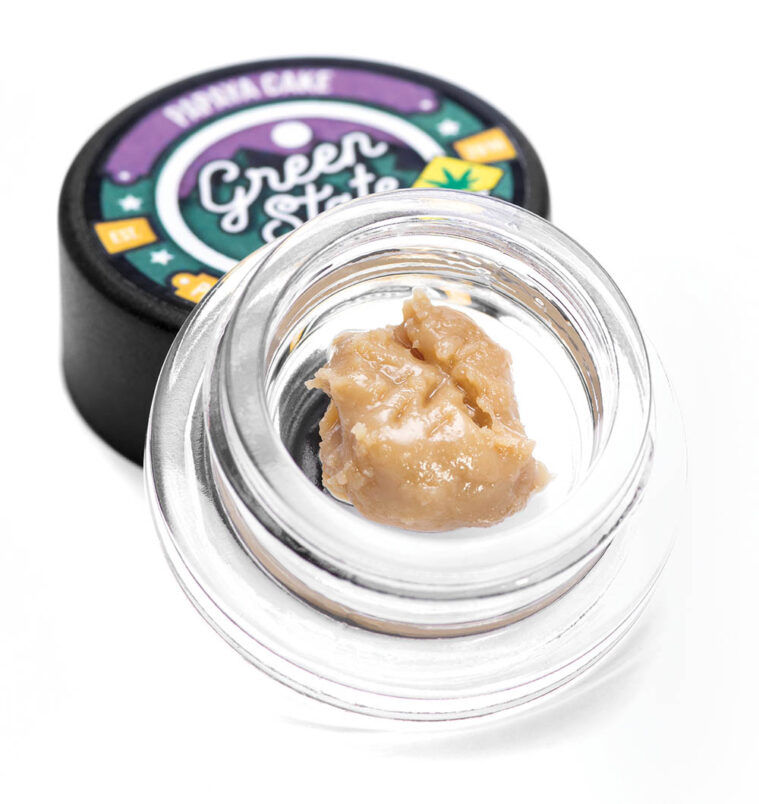 Screw the summer diet and eat cake for breakfast with this floral, creamy and earthy rosin that smells like a lemon frosted sweet Hawaiian roll with a slab of funky sour butter melted on top, delivering a tropical smooth vapor and a euphoric, thoughtful and energetic morning buzz.
---
Knots Cannabis
Hash Locktite Rosin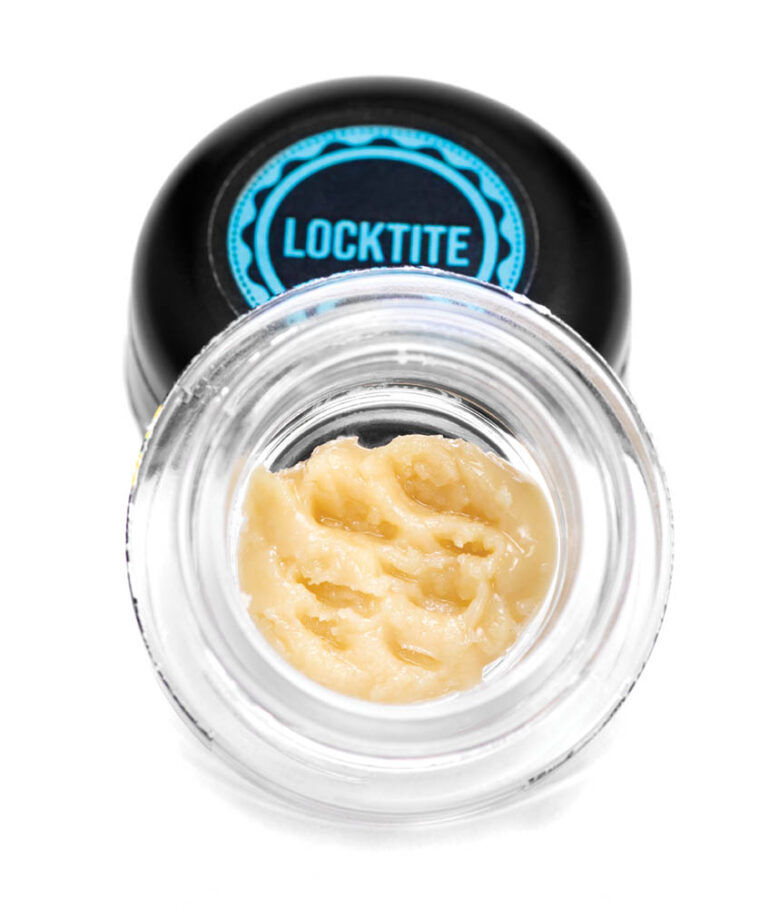 This gassed and glued cross of Mt. Rainier X Original Glue has a thick sour jar flavor with notes of bubblegum, haze and pine that tease the senses before a floral glue seals the palate and grabs the chest in a warming, hazy and floaty high perfect for couchlocked fun.
---
Plaid Jacket
Rain Mintz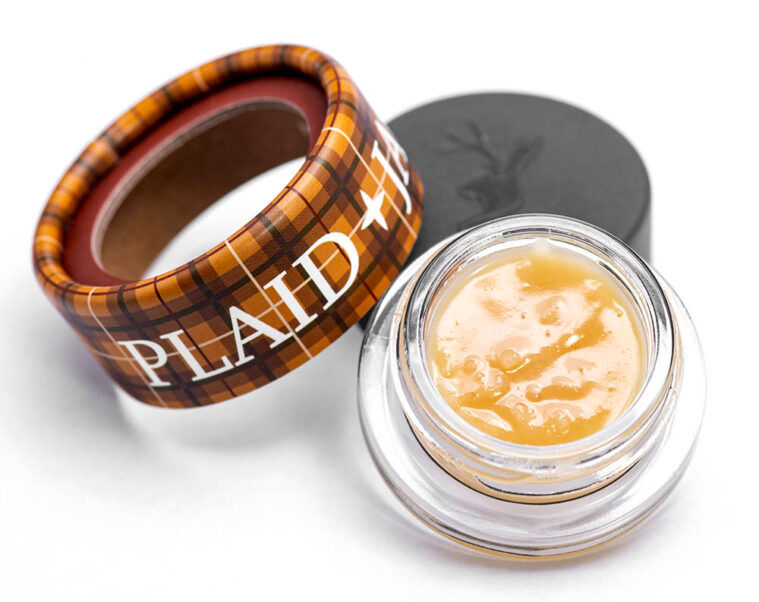 Fresh and floral like a PNW forest after a surprise summer rain, this earthy-piney-minty rosin has a warming, sweet candied lemons exhale that fills the lungs and mind with a glowing, senses on fire euphoria that's ready for a rain dance, especially in a sprinkler.
---
Mammoth Labs
Cherry Bomb Gelato 73-120u Cold Cured Live Hash Rosin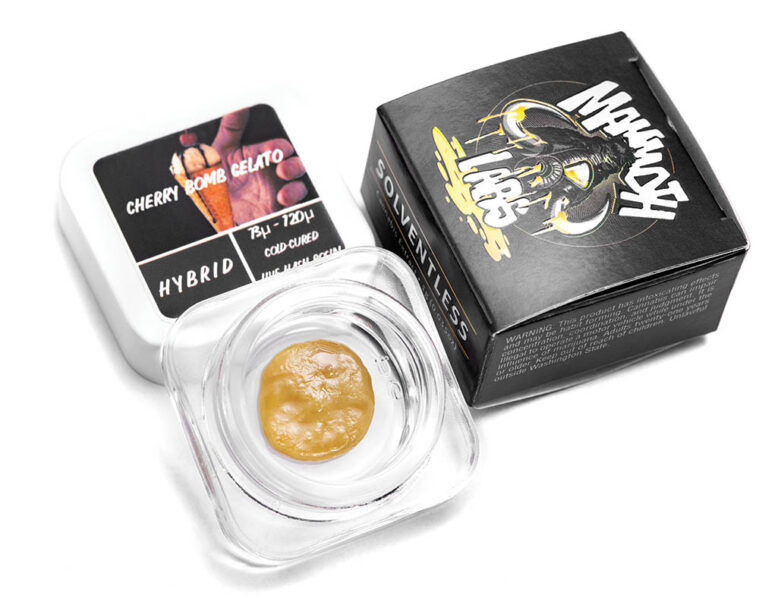 Brilliant waves of earthy cherries rush from the jar, filling the mind with candied creamy berries with a hint of choco-pine that delights when low temp dabbed, delivering a smooth and sweet cherried exhale with a mind and time slowing, chillaxed but happy-floaty buzz.
---
Bacon's Grease
Pressurized Berries 70-149U Fresh Press Rosin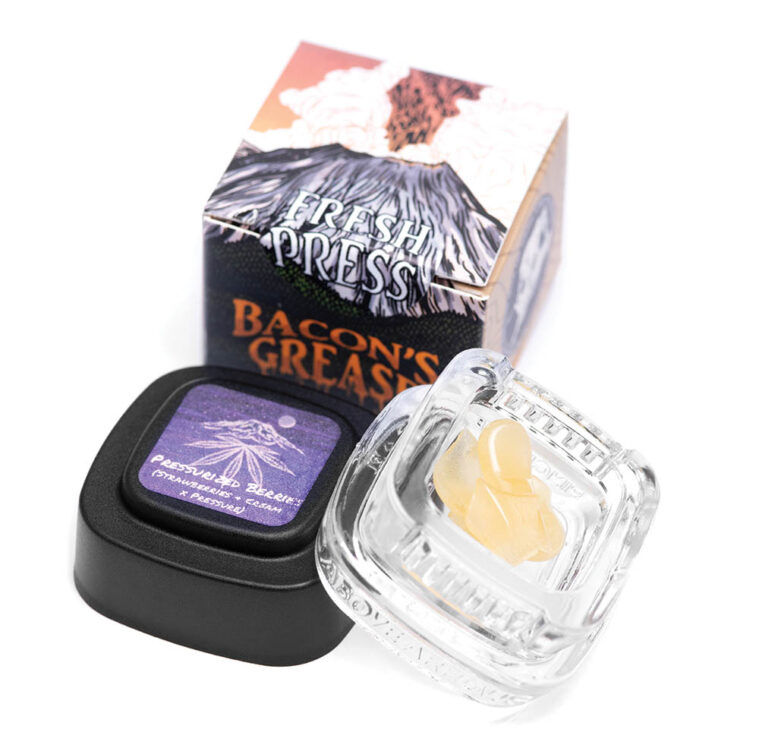 Syrupy caramelized berries with lighter notes of gassy-kushy-pine rise softly from this fresh pressed rosin, delivering a smooth kiss of vapor with a vanilla gas exhale that softens senses and sounds for relaxing, floaty and carefree high.
78.81% THC
@baconsbudcannabis
---
Bacon's Grease
Bootylicious 70-149u Cold Cure Rosin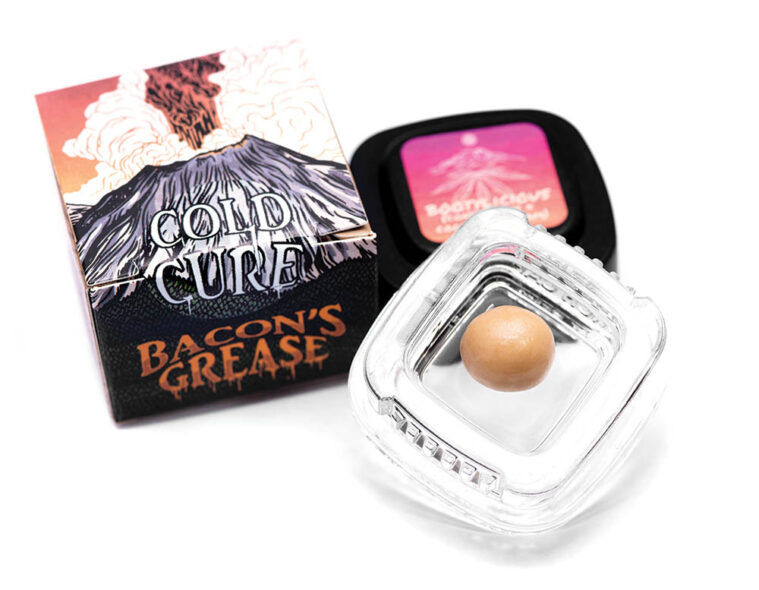 Insane waves of sour grapefruit diesel and piney-cookies-cream rush out of this perfect orb of Constantine X Cookies + Cream rosin, delighting the senses before delivering a gentle rush of vanilla glue that wraps around the body like a hug from a friend, with a warming euphoric energy perfect for a midday coffee break.
75.32% THC
@baconsbudcannabis
---
Six Fifths
Papaya Cake Cold Cure SHO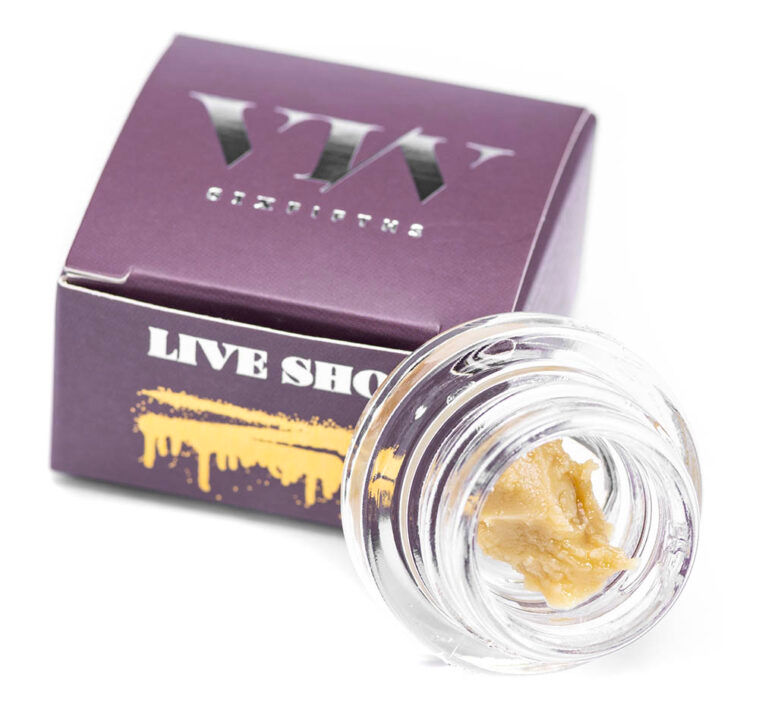 In your face sour tropical fruits and glue ooze from this raw and funky rosin that has a fizzy citrus kick on exhale, calming senses and anxiety while sending waves of happy energy in a perfect stoned for breakfast buzz.
74.87% THC | 7.2% Terpenes
@sixfifthswa
---
Torus
RS 11 Cold Cure 159-90u Rosin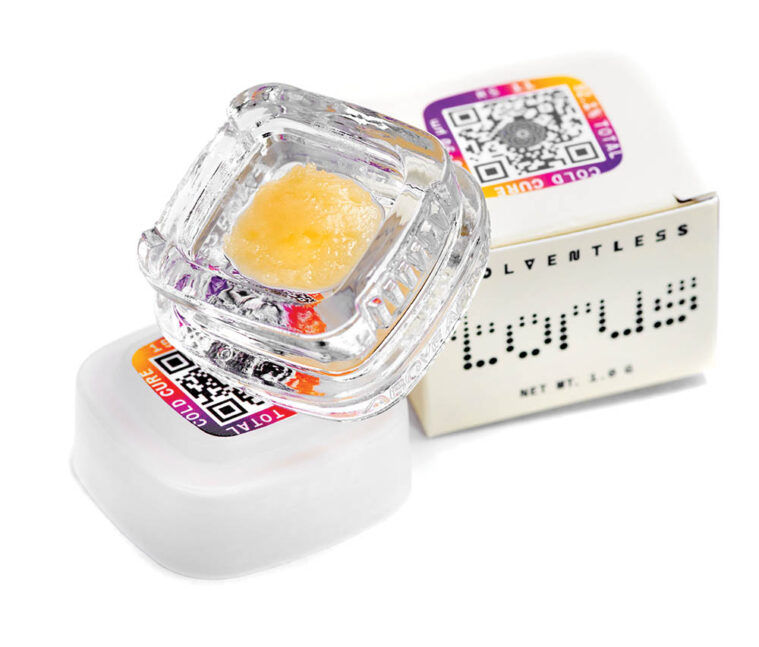 Ripe and foul in a delicious way that can only come from Cannabis, this golden rosin reeks of burnt rubber, smelly socks and GMO gas that repulses and delights senses at the same time, delivering a sweet surprise in vapor that's instantly calming, reducing cranial pressure while sending a wondrous stoney joy that fills mind and body.
92.1% Cannabinoids
@torusculture
---
Torus
Pink Certz Cold Cure 159-73u Rosin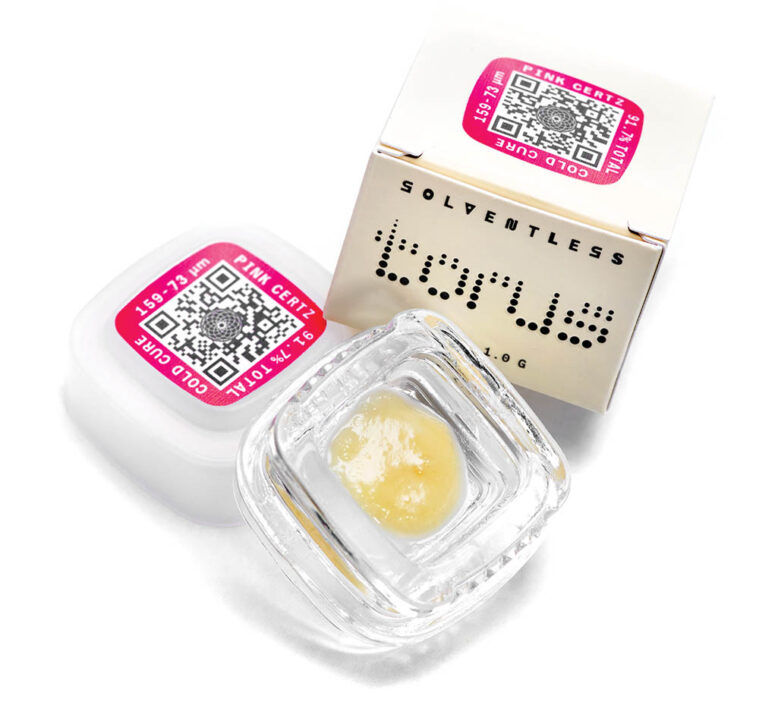 Bright citrus fizz with notes of pink lemonade and creamy gas ooze from this light golden-yellow rosin that vaporizes into a thick gluey citrus exhale that rushes into the frontal lobes, melting the mind into a puddled body that flows to music and vibes for a stoney, daytime buzz.
91.7% Cannabinoids
@torusculture